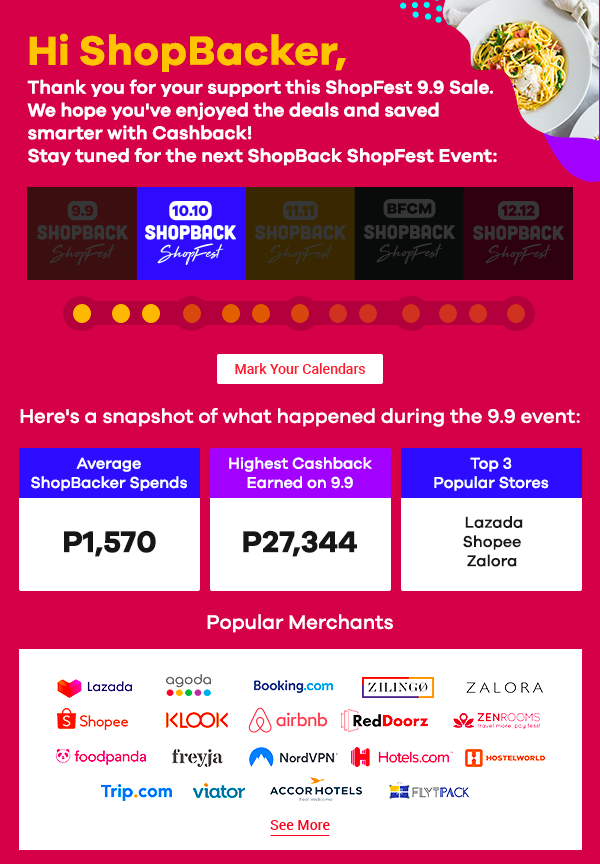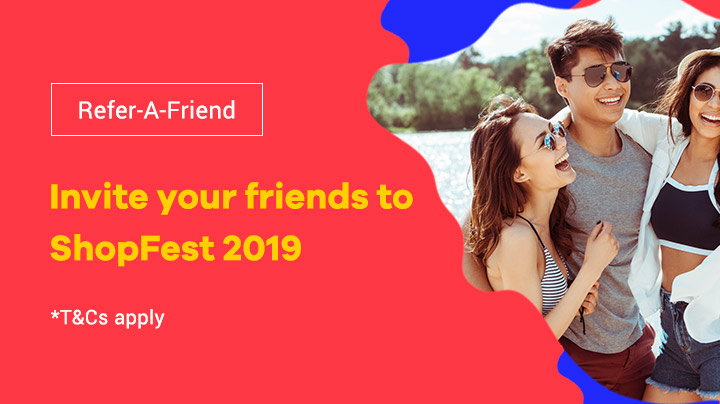 Introducing 9.9 Cashback Rewards Day!
ShopBack kicks off the year-end shopping season with 9.9 Rewards Day. It's a celebration that thanks you - our loyal customers - by rewarding you with kickass deals and discounts at your favourite merchants! Why do this? Well… We want to celebrate how you have embraced the "Smarter Way" to shop online!
Getting The Most Out Of The Bi99est Sales Event Of The Year
9.9 Rewards Day is only the first of six major online shopping events during ShopFest, designed to delight shoppers with diverse needs and wants. Shoppers can look forward to bundle deals, giveaways, massive discounts, promotions, upsized cashbacks, vouchers, and even a chance to win attractive prizes. Afraid that you might miss out on these fantastic offers? Download the Cashback Buddy desktop and laptop browser extension to discover stores that offer cashback in your search results, and get notified when cashback is available at the store you're browsing on.
Big Rewards In The Form Of Cashback, Coupons, And Discounts
It's clear that 9 September is the key date where the bi99est rewards await. But fret not as 9.9 Rewards Day is almost a month-long celebration of the "Smarter Way" to shop. There's something for everyone: beauty, dining, electronics, fashion, marketplaces, travel, and even Shopee voucher codes! You name it, and you'll probably be able to find it on ShopBack. Yes. Shopping online has never been easier or more convenient.
Make Your ShopFest Experience Even Better
Stand to win up to P71,000 with our brand new Shopfest Coin Monster! Give it a shot by posting a shot of you playing Coin Monster on your Facebook News Feed and tagging @shopbackphilippines. Highest score wins that lucrative pot of P71,000 cashback! Furthermore, get a sure-win prize from us by unlocking the bonus round by getting 80 points in 10 seconds. Simply play the game, take a screenshot of your reward code for your sure-win prize. Be sure to check out our official Facebook page for the prize announcement and updates with regards to Shopfest.
Spread The Joy (And Earn More Cashback) By Referring Your Friends
Think that ShopFest is awesome and more people should know about 9.9 Rewards Day? Good news! You can earn up to P1,899 for every 9 friends you refer to ShopBack! When you introduce your friends, both of you will be rewarded with a sign-up bonus. Just share your referral link, from your personal ShopBack page, via email, Facebook, Twitter, WhatsApp, or almost any social media you're on! You will receive the sign-up bonus once your friend meets the stipulated requirement.
Celebrate The Smarter Way To Beautify And Dress
Style up with our best Rewards Day promos from your favourite beauty and fashion stores like Under Armour, Zalora, Zilingo, Freyja, Adidas, ASOS, Charles & Keith, Nike, Sephora and more! While browsing through coupon codes and shockingly low prices, watch out for upsized cashbacks that will absolutely surprise you. Excited? Well you should be! It's the perfect opportunity to revamp your wardrobe with these awesome 99 deals!
Celebrate The Smarter Way To Eat
Literally hungry for more? Check out BigDish for reservations at your favourite restaurants, Walgreens for your groceries, and of course who can forget delivery services like foodpanda and honestbee that will satisfy your cravings for Cinnabon, Denny's, Dunkin Donuts, Fatburger, Gongcha, Jollibee, Papa John's, Salad Stop, Yoshinoya (and many more) from the comfort of your home! Need vitamins and supplements? Fret not, as we have stores like A1supplements.com and iHerb that will satisfy your every need.
Celebrate The Smarter Way To Play
Obsessed with gadgets and electronics? We've partnered with merchants like eBay, GamersGate, Lazada, Microsoft, MWave, Newegg, Shopee, and Samsung, to bring you the best deals. Need a secure browsing connection? Check out NordVPN providing you the best protection. Well if you enjoy reading in your free time, check out Bookdepository.com for over 20million books worldwide!
Celebrate The Smarter Way To Travel
For those who need a satisfy your wanderlust, book your flights with our flight partners like AirAsia, Emirates, Korean Air, Philippine Airlines, and Qatar. You can also expect up to 7% cashback (and even more during limited upsized offerings) when you book your hotel accommodations with our partners like Agoda, Booking.com, Expedia, Hotels.com, Accorhotels.com, Oyo, RedDoorz, Hostelworld and Zen Rooms. Besides flight and hotel promos, you'll find a dizzying variety of 99 deals and discounts on experiences, travel packages, airport transfers, and more like Flytpack, Viator, Trip.com and Rentalcars.com,