Virgin Atlantic Airways Coupon & Sales in Philippines for June 2019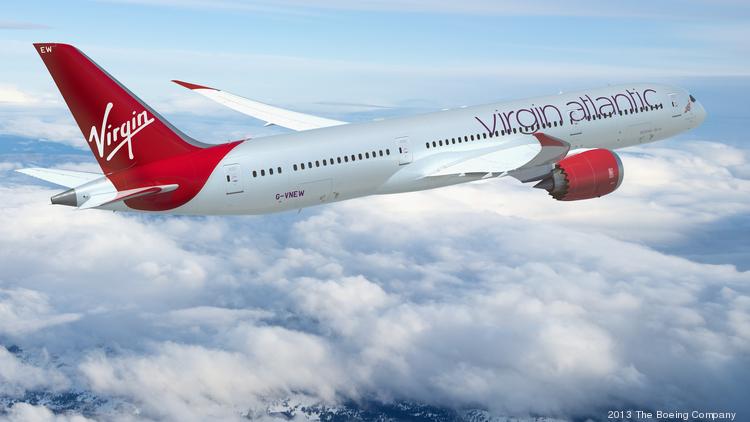 Enjoy Virgin Atlantic Airways Coupons + Cashback On Flights To 200+ destinations
Discounts and promotions on flights on Virgin Atlantic. Valid for all customers. No code required.
Merchant's Special Terms and Conditions
ShopBack must be the last link you clicked in order to get Cashback. If other website links are clicked after clicking through ShopBack, Cashback will not be tracked (E.g. coupon and deal websites)

If for some reason your payment made on merchant page has failed, do click through ShopBack again and re-do your purchases to ensure tracking is still active

Return to ShopBack and click through to the merchant every time you are making a new transaction.

If you are making 3 separate transactions on the merchant, you should click through ShopBack 3 times, each time before making a new purchase.

For more details: www.shopback.ph/terms-and-conditions
More about Virgin Atlantic Airways
Get Virgin Atlantic Airways Coupons + Cashback When You Click Through ShopBack!
Virgin Atlantic Airways coupons and deals are available on most affiliate websites which can give you a discount before you book a ticket. But it's usually hard to find verified deals and coupons which actually work. The best way is to visit ShopBack Phillippines which has all the best Virgin Atlantic Airways coupons and deals in one place. And best of all, they all work! You can even get 1% cashback on your flight purchases!
Here are some examples of the Virgin Atlantic Airways coupons you can expect to find (subject to season and availability):
Sign up for the Virgin Atlantic Airways Flying Club for special offers and exclusive deals
Check out the ideas and low fares for significant savings on the website
Receive rewards with the Flying Club
Watch movies onboard with Virgin Atlantic
Great passengers on return flights from Seattle to London
Shop great fares on return flights from Boston to London
Sale on the flight tickets from Atlantic Chicago to London
Sale on the international flights on roundtrip per passenger
Save on tickets and explore the great destinations worldwide
Virgin Atlantic weekend deal alert
Save on your next trip from Los Angeles to London
Save big on the Virgin Atlantic tickets of Atlanta to London
And if you need to book other travel related activities or purchases, be sure to check out Booking.com and Agoda!
Virgin Atlantic Airways – An Affordable Travel Experience In The Lap Of Comfort And Luxury
Virgin Atlantic Airways is the brand name which focuses on the business, driving efficiency and effectiveness. Their mission statement is simple, yet the foundation is built on the ethics to embrace the human spirit and let it fly. The Virgin Atlantic is a major British success story, which has come in a long way and still has much more to do.
The trading name of Virgin Atlantic Airways Limited and Virgin Atlantic International Limited has the head office in Crawley, United Kingdom. It was established in 1984 as British Atlantic Airways which was planned to fly between London and Falkland Islands. Soon after the name was changed to Virgin Atlantic Airways, some of the significant shares were sold. The holding company Virgin Atlantic Limited control the airlines along with the Virgin Holidays, which is owned by Virgin Group with 51% and Delta Airline with 49%. Virgin Atlantic uses Airbus and Boeing wide-body aircraft and operates to the destinations like North America, Africa, Caribbean, Asia and the Middle East from its main base of London and its secondary base Manchester, the seasonal flights from Glasgow and Belfast. In the first ten years, the airways had flown over 1 million passengers and started shaking up the services onboard. They were the first airlines who offered individual TVs to the business class passengers.
In the year 1992, Virgin Music was sold to Thorn EMI, and the money was invested in improving an already excellent service. In the same year, they launched the super economy service which later became their award-winning Premium Economy. They expanded their network routes and grew bigger by buying new planes.
In 2003 the airlines launched revolutionary Upper-Class Suite, the most extended and most comfortable flat beds and seats for the business class passengers. They also opened the new Virgin Clubhouse at Heathrow in 2006. There are many exciting features like the hair salon, cocktail bar, cowshed spa, games room and a brasserie. In 2007 they brought the new check-in facility at Heathrow Terminal Three for Economy and Premium Economy passengers. The passengers were allowed to check in through kiosks which are a faster and stress-free process. The Upper-Class passengers got the Upper-Class Wing which has a private security corridor for speeding up through the Terminal to the Clubhouse. The Zone A became wider, brighter and spacious than before. In 2008 they operated world's first flight using biofuel by a commercial airline. Virgin Atlantic is winning awards since 1986, and recently they won the Real-time data and automation ward (data storytelling award), Europe's leading airline to North America award (world storytelling award) and Silver – Best airline for groups (M&IT awards).
Learn How To Book A Flight With Virgin Atlantic Airways
If you are like many, who wonder how to book a trip and check in, this is the easiest and comfortable journey with Virgin Atlantic. The airlines have a smooth interface and its hassle free. Virgin Atlantic International truly helps you to book a flight in some simple steps:
Find your Virgin Atlantic flights
Choose the flight you want to fly
Choose the number of adult or children passenger
Complete the payment process
Add any promo code if applicable
The booking is quite easy, and if you want to add promo code before checkout, you don't have to worry to pay full price for the flight ticket. Get the best experience by applying for additional features like internet while you fly or individual TVs for yourself.
Navigating Virgin Atlantic Airways Website
If you look at the Virgin Atlantic Online, you will get all the information regarding the ticket functions, the status of the flights, and related updates. The Virgin Atlantic sales are there for you to share all the information regarding reservations. Check the timings for your car rental through the 'manage your flight' tab which allows you to customise and configure your bookings.
The webpage is quite easy and clean to navigate. The interesting website has few open tabs for your booking purpose.
Book:
You will need to input the city or airport name where you are starting your journey and the destination where you want to travel.
Select the return – One way or multi-city
Select dates for your travel
Opt for Corporate Booking, Buy Currency or Group Travel
Book a flight
Book a car
Book a hotel
Offers and sale fares
My Booking:
After retrieving your flight details, you can
Choose your seats
Upgrade your cabin
Customize your experience
Check-in:
Online check-in time for all flights opens before 24 hours of the scheduled departure and closes 70 minutes before. During check-in you can:
View and change seats
Upgrade your seats
Add extra baggage
Add advance passenger information
Issue your boarding pass
Where we fly:
UK: London, Edinburgh, Glasgow, Manchester
USA and Canada: Atlanta, Boston, Las Vegas, Los Angeles, Miami, New York, Orlando, San Francisco, Seattle, and more
Caribbean & Mexico: Antigua, Barbados, Cancun, Cuba, Grenada, Jamaica, St Lucia, Tobago
Africa: Johannesburg, Lagos
Other Misc Information Which You Might Find Useful
Travel info
Tailoring your flight
Special assistance
Optional upgrades & extras
Choose your seat
Flying with pets
Flying with children and infants
Before you fly
Baggage requirements
Visa and health requirements
How to check in
Airport guides
TSA PreChech
Travel money
Help & support
Help centre and contact
Travel news
Your wellbeing onboard
Delays and disruptions
Request a refund
Check refund status
Experience
Inflight facilities
Cabin classes
Inflight entertainment
Inflight connectivity
Retail therapy shop
Why choose Virgin Atlantic?
Clubhouse and treats
The mobile app
Our sustainability programme
How do they operate?
Virgin Atlantic & Delta Partnership
Codeshare partner airlines
Products And Services of Virgin Atlantic
Just ride: Offers value, excellent service and reliability in 400 destinations worldwide. The dedicated team around the network oversee the handling and look after the cargo products
Must ride: Premium service offering priority access to space, highest boarding priority and also the money back if your shipment doesn't fly as booked.
Fast ride: It is the express service for the time-sensitive cargos, and the added benefit of using this service is the 2 hours close out time for deliveries. The shipment will be available within 2 hours of the flight arrival.
Vex: It is the specific courier product for all the primary airport to airport shipment under 32 kg.
Pharma: This GPD accredited service offers a range of solutions for your time and temperature sensitive pharma and life sciences shipments.
Pets: Offers fantastic, safe and reliable service for pet agent, or the owner's cats, dogs travelling through the Virgin Atlanta's network. The hold is heated and air-conditioned just like cabins.
Payment Options After You Book Your Tickets
Virgin Atlantic offers various payment methods which are fast and easy. You can choose from multiple options like:
VISA
MasterCard
American Express
Discover
UATP
Corporate Bookings
If you are looking for business travel, take help from the exceptional team of Virgin Airlines. To find more information about business travel gets in touch with Virgin Airlines via email or phone. In the options for Corporate Travel under the 'Bookings' section, you will find the following help options:
Bookings: Global travel event, group travel, mass disruptions, group travel, corporate travel
Baggage: Delayed bags, damaged bags or missing items
General enquiries: Virgin Atlantic flight, something else, Virgin Atlantic products
Feedback: Compliment, the complaint
Special Assistance: You can contact the particular assistant department for any problem. Contact your travel agent if you have any request for individual assistance 48 hours in advance. If you are travelling within 14 days, then you can call 0344 481 4455 or fill out the form in the contact page.
Virgin Atlantic Cargo
You can track down your cargo by filling out the form using:
AWB prefix
Number
Track the load
For booking your cargo, you need to:
Check flight schedules
The quick book under 100 kg
Book online with CPS
Book a Pharma shipment
Call or email the company
Help & Contact
Contact the toll free number of Virgin Atlantic at 1800 102 3000 or on +91 124 469 3030
Lost Property
If by mistake you have left some baggage in one of the aircraft or the lounge of the company you will need to contact the lost property department of the airport into which your flight arrived. The lost properties that the crew find onboard or the aircraft is passed to the airport's missing property handlers by the airport security staff. The item is kept for one month from the date of the arrival of the aircraft unless it is a perishable item, which gets destroyed immediately.
You can contact the airlines for the lost property and give the following information to the airport's lost property service:
Full name
Your postal address
Contact telephone number
Flight number and flight date
Seat number (if applicable)
A full description of the item and the place where you think you left your item/baggage
If the airlines' authority get your item or baggage, they will contact you to arrange the return of the same. There will be postal delivery and the administration cost to get your item or baggage back. You will be emailed or contacted by the lost property department within five days if the article is not there.
If you have lost something in the clubhouse or private airport lounge, you should contact the lost property department and provide the details.
Social Media
When you are on the land of social media, do not forget to add and follow Virgin Atlantic Facebook and Twitter pages and also other social media platforms. Be the first person to know about the latest updates, promotions and even Virgin Atlantic hotels by joining the newsletter and following them. You will get the information of various savings through them.
Virgin Atlantic is the world's one of the most popular airlines which are appreciated by thousands of travellers globally. You can find the most significant deals and discounts for travelling with ease and comfort and enjoy the luxury at its best. So what are you waiting for? Fly with confidence and smile to your next destination with Virgin Atlantic Airways.