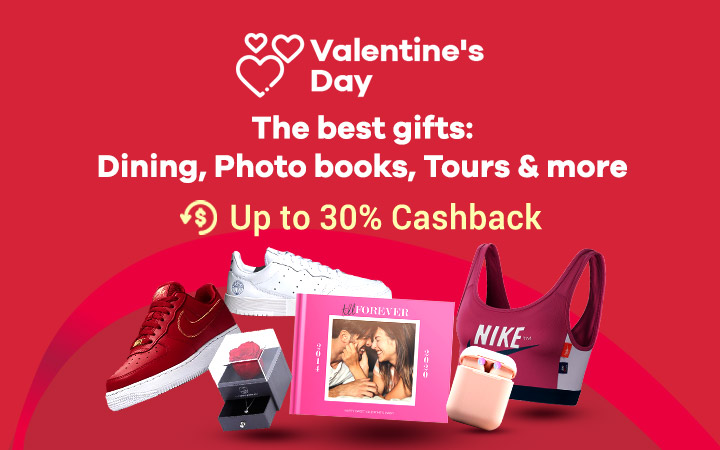 The Ultimate Valentine's Gift Guide
Kakaibang Valentine's Date
Travel Destinations for Couples (and Soloists!)
Love is in the air this Valentine's Day and it smells a lot like a promo and an offer
If you've never been big on shopping, well then now is the perfect time to start. Valentine's Day brings with it a whole host of Valentine's Day offer, promo and sale to help you make the occasion an extra special one. Be it for gifting or for yourself, you can bet that there is something for you to spend and save on. It is time for you to combine your love of shopping with your love of romance and ShopBack is your perfect wingman for this occasion!
Dress to impress with the help of a Valentine's Day promo
Ladies and gentlemen, getting yourselves a date is just half the battle won. Choosing the outfit is equally as important. Valentine's day presents you the chance to finally find everlasting love and so it is best you pull out all the stops to seal the deal – whatever it might be. Take advantage of a Valentine's Day promo, offer or sale at one of our many fashion merchants to get great savings on the freshest of styles. ShopBack gives you access to the best fashion merchants with the best choices. Little black dresses, shirts, suits shoes or accessories you can find it all at ShopBack – with cashback!
Ditch the restaurants and whip her up a meal
Dine with a personal touch and whip a storm in the kitchen with the help of our popular merchants - from Metrodeal, Foodpanda and even Eatigo and Boozy! You can browse and purchase groceries at the convenience of your own home and get it delivered to your door. It is not that costly to do so with many Valentine's Day sale, promo and offer going on. You can even get a great bottle of wine. It is all worth it, either ways, because there is nothing sexier than someone who can cook!
Whisk her away to somewhere beautiful with cheap air tickets
Sweep her off her feet by taking her on an adventure in lands foreign and unfamiliar. Walk hand in hand as you explore some of the world's most romantic cities be it Paris, Venice or even Bali. Now is a better time than ever to satisfy your wanderlust with tons of Valentine's day offer, promo and sale going about to help you maximize your travelling dollar. Spend less time worrying about your budget and more time thinking of ways to make the trip a perfect one for you and your partner. Blossoming romance in a foreign land sounds so romantic, don't you think?
Shower your partner with love and gifts to mark this special day
Everyone loves surprises – especially when it comes in the form of gifts. With ShopBack, you get access to some of the biggest online megastore selling everything from electronics, clothes and many more. The online cashback site have deals from Shopee, Lazada and Zalora. Do some sneaky research on what your date is dying to have and then just log on to one of these stores – via ShopBack of course – and shop away! It helps that you get cashback and also savings from one of the Valentine's Day promo, offer or sale. ShopBack helps you pull no punches in impressing your date!
Have a happy Valentine's Day and we hope you'll find love everlasting! Be sure to check out many of ShopBack's electronics, food and travel deals now!