ShopBack 2019 Travel BINGO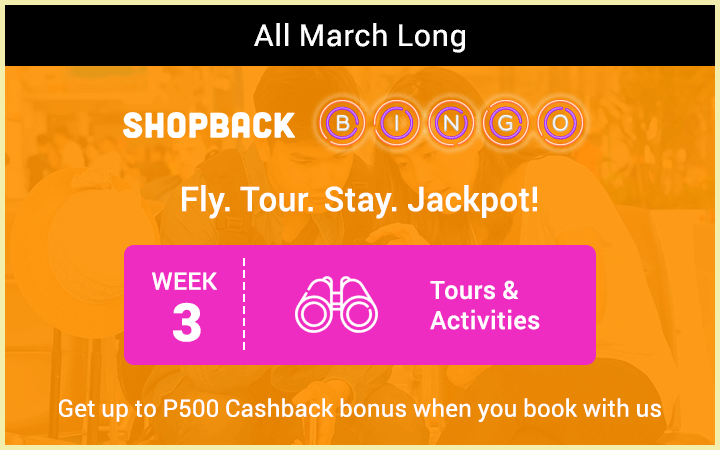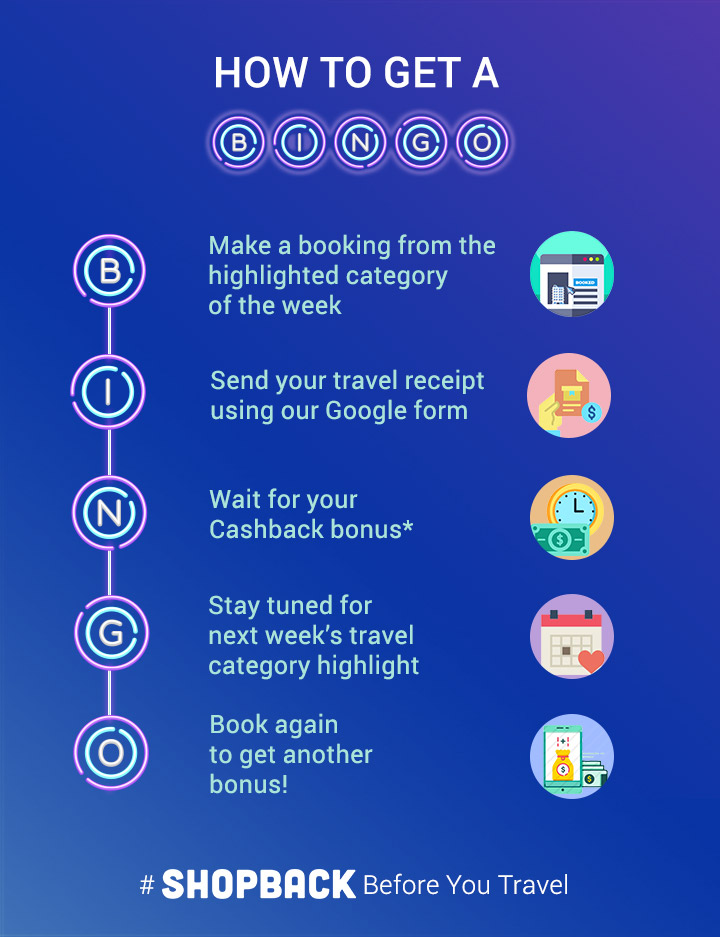 First 100 customers to book from 18 to 24 Mar 2019 with a minimum spend of P1,000 (See full T&Cs below)
[Week 2] Travel Extras (Sim cards, Transfers, Pocket wifi & more)
First 100 customers to book from 11 to 17 Mar 2019 with a minimum spend of P1,000 (See full T&Cs below)
First 100 customers to book from 25 to 31 Mar 2019 with a minimum spend of P1,000 (See full T&Cs below)
[Week 1] Hotels & Accommodations
First 100 customers to book from 4 to 10 Mar 2019 with a minimum spend of P1,000 (See full T&Cs below)
ShopBack Travel BINGO Terms & Conditions:
Promotion is valid from 4 March 2019 00:00AM to 31 March 2019 11:59 PM.
This promotion requires a minimum spend of P1,000 per week on a single transaction on the designated merchants per week only. Multiple transactions to achieve the minimum of P1,000 will not be honoured.
This promotion is valid for all ShopBack users (New Customers & Existing Customers).
Only the stores listed on this page are eligible for the giveaway.
Customers who wish to participate in the BINGGO can participate in any week they wish to and do not have to take part in every single week in order to get a bonus.
Weekly bonus is limited to the first 100 customers who will submit their travel receipts to ShopBack via this form: (http://bit.ly/SBBINGO)
Customers can only receive one bonus per week. Multiple accounts created to receive multiple bonuses in a week will be banned from ShopBack altogether.
Customers can only receive up to P500 Bonus Cashback in the whole duration of this promotion.
All bonuses will be given by 10 May 2018.
Any bookings cancelled after the promotion will deem the bonuses void, and will be invalidated.
Any order returns, refunds, cancellations and failed payments will be disqualified from this promotion.
Orders that are 1) not made via ShopBack, or 2) suspected to have fraudulent intent (eg. creating multiple ShopBack accounts), will not qualify for the Bonus Cashback.
ShopBack reserves the right to modify, amend or discontinue any part(s) of this promotion without prior notice.