ThinkGeek Coupon & Sales in Philippines for June 2019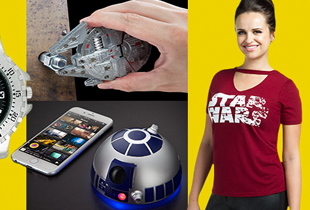 May the 4th Sale: Up to 80% off on Star Wars items
Promo for limited time only.
Clearance Sale up to 50% OFF
ThinkGeek clearance sale, up to 50% discount. Promo for limited time only.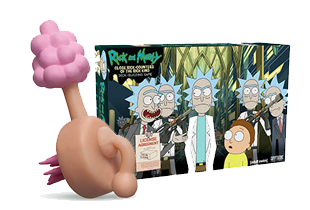 Rick & Morty Spring Sale: Up to 33% off
Discounts on apparel, board games, portal guns and more. Promo for limited time only.
Merchant's Special Terms and Conditions
ShopBack must be the last link you clicked in order to get Cashback. If other website links are clicked after clicking through ShopBack, Cashback will not be tracked (E.g. coupon and deal websites)

If for some reason your payment made on merchant page has failed, do click through ShopBack again and re-do your purchases to ensure tracking is still active

Return to ShopBack and click through to the merchant every time you are making a new transaction.

If you are making 3 separate transactions on the merchant, you should click through ShopBack 3 times, each time before making a new purchase.

For more details: www.shopback.ph/terms-and-conditions
More about ThinkGeek
Visit ShopBack Philippines For Exclusive ThinkGeek Coupons, ThinkGeek Promos And Even Get CashBack!
ShopBack understands the geek inside you and also the person who loves to shop and save. That's why ShopBack always offers great deals and promo codes which you can use along with other discounts too. Besides ThinkGeek promo codes, ThinkGeek coupon codes, ThinkGeek vouchers and deals, ShopBack also provides up to 5% cashback which is valid when you shop at ThinkGeek through ShopBack. And this cashback is given on top of any promo codes and discounts you use on your ThinkGeek purchases. It's extremely simple to use ShopBack, you don't need to be a geek to do it. All you have to do is follow these simple steps:
Sign up for a new account or sign in to your ShopBack registered account
Select the available ThinkGeek coupon code or voucher code of your choice
Click on the link of the deal and get redirected to the ThinkGeek website
Sign up for a ThinkGeek account and proceed to select the product of your choice that you would like to purchase
Remember to use the ThinkGeek coupon code before making any purchase and payment at the checkout page
Relax and watch to get the cashback for your purchase. It will take 1 to 2 days to appear in your ShopBack account.
Here are just some of the various ThinkGeek promo code 2018, and voucher codes that you can expect when you shop through ShopBack (subject to availability and seasonal changes):
ThinkGeek clearance sale up to 50% off
Legend of Zelda Hylian Shield backpack at PHP 995 at 5% off
Star Wars waffle maker at PHP 9,136 at 10% off
Star Wars lightsaber ice-pop maker at PHO 6885 12% off
Minecraft cookie cutter set at PHP 2641
GPL / Star Wars coffee Press R2D2 limited edition PHP 504 and save PHP 300
Game of Thrones Jon Snow's backpack at PHP1695
Bag of holding con-survival edition PHP 5645
Legend of Zelda breath of the wild shield backpack at PHP 2795
And that's not all, if you enjoy such deals, make sure to check out other merchants on ShopBack like honestbee, Traveloka, and Zalora for your other online shopping needs!
ThinkGeek – The Hub Of Unique And Authentic Geek Approved Products
If you are a person who loves to stay at home, watch your favourite TV shows on Netflix or on the internet and can't get yourself out of Star Wars, Game of Throne and Minecraft or just been called as Geek your entire life, you are in the right place to find your feed – ThinkGeek. Thinking of geeks, there are too many types of them in the world, programmer geek, astronomy geeks, Star Wars geeks, Mathlete geeks, open source geeks, Einstein geeks and so on. ThinkGeek thinks that all of them are equally special and adorable and this store has dedicated itself to them. With more than a decade of its dedication and experience under their belt, ThinkGeek has many loyal geek fans all over the world. At ThinkGeek, all geek fans can connect quickly and identify their passions and solve the geek problems.
ThinkGeek - A Geek's Dream Come True
ThinkGeek is an American retailer that serve to the computer enthusiasts and maintains the 'geek culture'. This was founded in 1999and it is initially based in downtown McLean, Virginia as a small side project. The official launch of the website was on August 13, 1999. A Boston area technology news publisher, Andover.net, acquired ThinkGeek n October 1999. After several name changes, the current parent company of ThinkGeek has been named as Geeknet. They are currently ranked as one of the top online retailers, listing as #175 on the Internet Retailer Top 500 List. On September 5, 2015, ThinkGeek opened a store at The Florida Mall in Orlando, Florida. In 016, the opened five more brick and mortar stores in the US and 25 international stores, which included store pickups and ship-to-store options.
Since 1999, ThinkGeek has a mission to create a world where everyone can enjoy their inner passion and connect with one another. It started with bright t-shirts and unusual gifts and now has become the best place to find all sort of unexpected goods that express your passion much of which are quite hard to find in any other area.
Their merchandise include clothing, electronic and scientific gadgets, office toys, pet toys, great computer peripherals, child toys and caffeinated drinks and candy. Shop for electronic devices, survival gear, outdoor gear, apparel, functional and fun home and office décor, and also find the perfect gift for your loved one who is into science or science fiction. Quench your geek thirst with the ever-expanding curated collection of exclusive products.
Product Categories At ThinkGeek
Clothing: T-shirts, Tank tops and fitted tees, Polo's and button-ups, Women's tops, Dresses and skirts, Sweaters & Cardigans, Hoodies, jackets & outwears, activewear & swimwear, robes, sleepwear, leggings, socks and underwear, baby & kids, costume and cosplay apparel
Accessories: Footwear, key chains & bag accessories, wallets, hats & hair, ties & cufflinks, belts & suspenders, scarves, cosmetics & body, purses & handbags, pouches & coin purses, other accessories
Jewellery: Charm beads, watches, earrings & body jewellery, necklaces, bracelets, rings
Bags & Backpacks: backpacks, messenger bags, luggage & travel bags, lunch boxes, purses & handbags, pouches & coin purses, wallets
Home & Office: Kitchen & dining – Accessories & décor, coffee mugs & travel mugs, glassware & drinkware, utensils & flatware, dinnerware, appliances, food & caffeine. Home Décor – Lighting, bedding & blankets, bathroom & towels, wall art & prints, rugs, clocks. Office – Office & school supplies, desk décor, stationery & journals, office pranks & cubicle warfare, books, calendars
Toys & Games: Action figures, costumes and cosplay accessories, R/C toys, board games & tabletops, party& card games, puzzles, plush, office pranks & cube warfare, DIY & model kits, STEM & service toys, other geeky toys
Collectables: Vinyl figures, scale figures & statues, prop replicas, pins & patches, Funko POP! Vinyl, Vinyl records, collection sets, pre-orders, other collectables
Tools, Outdoor & Survival: Knives, swords and axes, survival & camping gear, geek tools, outdoor & backyard fun, car gadgets & accessories
Electronics & Gadgets: computer & PC gaming accessories, console & portable gaming, camera, photo & video, speakers, headphones & audio, lights & lasers, spy & security, USB hubs, drives& accessories, music gear, car gadgets & accessories, phone & tablet accessories, phone & tablet accessories, batteries, chargers & cables
Geek Kids: Newborn & Infants, toddler, 3 – 7 years, 7 – 13 years, clothing
Ordering From ThinkGeek
You can order from ThinkGeek in a natural way:
Place your order which you like over the phone
They do not accept mail or purchase orders
They accept PayPal but no acceptance for Bitcoin currently
You can drop by their physical store locations and see the products in person
You can also check the availability of products on ThinkGeek
In Stock: The item is available, good to go and ready to launch
Out of Stock: The thing is currently unavailable, you can ask for email notification to know when the product is back in stock
Some options not available: Some stocks are available to order, some are unavailable. You can ask for email notification when the item will be restocked.
Pre-Order:
A pre-order is the order in which you place before the official release date of a product. These products are often under limited edition tag. You place pre-order by entering all your details as if you were ordering the item. However, you will neither receive the item nor be charged at that time. Your order will be debited when the company will be ready to deliver the item. At that time you will be able to receive an email reminder before you are charged and also you can modify your payment and delivery information. You will receive one of the precious pre-order items which your desire.
Customer Care @ ThinkGeek
You can get the following when you contact the customer service of ThinkGeek
• Order status: Know about your order status, if it has been shipped or when will you receive the order
• Returns and exchanges: Take a look at the various return terms and conditions and policies if you need to return a merchandise
• Your account: Know about the process of changing your password or email id or the subscription option of your account
• International orders: Contact if you want to know about the duties and tax information for foreign shipping
• Sizing charts: Understand the size before you buy an apparel
Payment Methods To Buy From ThinkGeek
ThinkGeek accepts various modes and types of payment:
Visa
MasterCard
American Express
PayPal
They do not accept Bitcoin or other virtual currency. If you have an account, you can even securely save your payment methods for later use. Buy anytime and pay in few minutes without any hassle.
ThinkGeek Returns And Exchanges Policy
ThinkGeek accepts product return within 90 days, and they require an RMA for each item being returned. The returned items must be in its original condition which includes tags, booklets, and labels. It is preferred by the company that customers use the same shipping box in which the items arrived. Orders from ThinkGek.com cannot be returned to the ThinkGeek stores.
Refunds are issued to original payment method. There will be a 15% restocking fee applies to some returns. The customer will be responsible for return shipping costs of non-defective merchandise if a re-printed return shipping labels from ThinkGeek is used. The shipping fees will be deducted from the refund or store credit of the customer.
How to make a return:
Customer must have a Return Merchandise Authorisation (RMA) number and return it
RMA: Include your RMA# here
972 Conestoga Pkwy
Shepherdsville, KY 40165
The return process takes up to two weeks. If the customers do not receive a refund after that period, they can contact Customer Service with RMA number for more information. Alternatively, they can email or call 1-888-GEEKSTUFF (1-888-433-5788 or 508)
Social Media Presence Of ThinkGeek
To make things even more impressive, you can follow ThinkGeek on social media and get the latest updates and news along with all the deals, discounts and voucher codes to use during your purchase from ThinkGeek. Be the first person to know about all the deals and discounts and never miss an update about ThinkGeek and its innovative products. Follow them on:
ThinkGeek has the largest variety of merchandise that any geek fan would appreciate. If you are looking for a perfect gift for your loved one there is always something in their categories and regardless whether they like science fiction or not. There's always something different, creative, and unique that will suit every taste.