ShopBack Tech Deals | Stay Safe and Updated online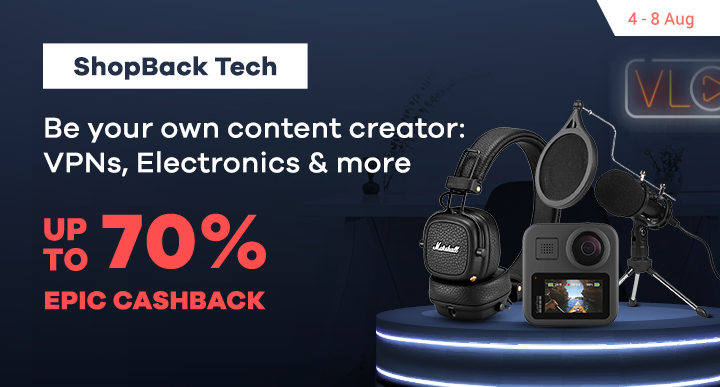 Surf the Net Privately: Get a VPN Service
Protect the way you surf online wether at home or using public WiFi and prevent your data from being collected with these VPN Services, plus get cashback.
Other Online Services Deals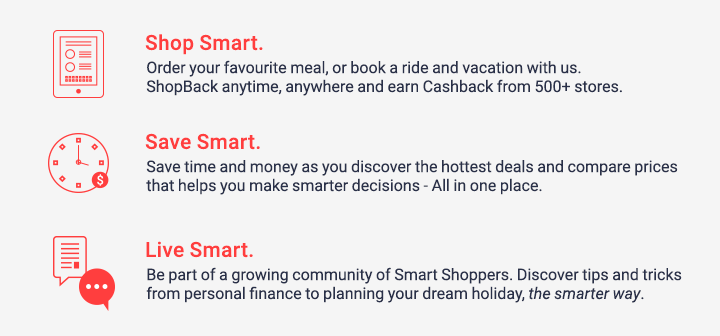 Stay ahead of the tech news curve with these tech deals
Calling all tech nerds and tech-savvy shoppers! With these tech sales going on, there is no fear of getting the latest gadgets at an affordable rate. After all, we all know that playing the tech game can be a very expensive hobby, especially for those who liked to be the frontrunner of these shiny new technology items. Thus, ShopBack have listed the best of the best tech offers for your browsing pleasure. Camera gadgets, mobile accessories, gaming and smartwatches, you named it, they have it. Time to start pulling out that wishlist of yours once more with these tech discounts!
Tech promotions for all categories made for easy browsing
Before you dive into everything at one go - it's hard to control the excitement, we totally understand - why not narrow it down to a couple of different categories to get started? This way, you can look through different items and compare prices of similar products from various brands as well. Pick and choose from a variety of items that best fit your personal habits and criteria.
For the people on the go: mobile devices, phone accessories, and wearables with how integrated technology has been in our lives today, mobile devices are certainly an important part of our lives. Thus, categories like 'mobile devices', 'phone accessories' and 'wearables' are the most relevant to get started. In mobile devices, find best deals of the latest mobile phones on top online shopping sites like Shopee and AliExpress. Key in specifics like the size of your screen, the number of core down to the very brand. For those who have a mobile device, how about looking into accessories? Not only are they useful for your tablets, mobiles and more, they could be a well-loved gift as well. Especially in this season of gifting, mobile accessories like handphone covers, mobile power banks as well as cute cables could make for a nifty gift. If you are not sure what phone cases to get at a gift exchange least you got the wrong phone mobile, power banks are a great alternative. Additional portable lenses for the phone are good gifts for the 'wefie' generation too.
For those who have a workstation at home: computer, laptops and storage devices
Instead of being on the go all the time, you work at an office desk from nine-to-five and are primary stationary in front of your screens on weekends too? Then these categories might be a good way to start. For those who have been using your laptops for a long while, check to see if you need a new PC or laptop soon. Don't wait for the dreaded blue screen to grace your computer: if your screens have been more unresponsive than usual, the fans whirring louder than usual and more signs of wear and tear, it's about time to prepare for a new laptop.
If your computer is holding up find or spanking new, why not look into storage devices? External, portable harddisks are useful for businessmen that fly or travel often, working on transport and more. With these portable harddisks, you can work and transfer files from one computer to another easily, including heavy and large files. For those who store a lot of content such as photos, a portable harddisk is a must to save storage space on your computer, allowing it to work more efficiently instead of being bogged down by items taking up too much memory.
For those who document your every step: cameras and related tools
Photography can be both a hobby and a lifestyle. For some, it is even a full-time career. Anyone who has briefly dabbed in the field of photography would definitely know that equipment like these is not cheap. This is why tech vouchers on photography equipment are handier than ever.
Whether you're looking for a camera body, camera lens to external tools like tripod and audio recorder, this is the time to embark on your search. Don't miss out on the latest drone models as well, a popular device for videography enthusiasts and travelers. With a drone, you can capture a much wider view of the entire landscape, useful when you are traveling to places with restricted pathways but a whole world to view from the birds' eye view. Expensive at one point in time, they're increasingly affordable and sturdier now, going at a range from PH 1,770 to PH 2,200.
For the home savvy users: audio systems and smart home
Remember that scene from sci-fi movies where you can activate everything with one single remote, such as closing the blinds to turning on the tv and lights? Or the scene where someone controls the house command with audio? That future is not so far from us now. With Smart Home equipment increasingly available, you can now inbuilt more controls at your convenience. Use tech codes to gain cheaper discounts whenever possible, and turn your home into a powerhouse with automated controls.
That's not all, for those who loved to jam it out on weekends or watch a movie in the comforts of your couch, upgrade your audio systems for a full surround sound, like a mini home theatre! Unwind and relax with great audio!
All the best brands, at one spot
Are you a user that pledged loyalty to your mobile brands, like an Apple user or a Samsung user? Or are you a user that enjoyed trying out new tech gadgets whenever you can, especially when tech discounts are being offered? Are you someone who enjoys the best of each brand, looking at the functionality and best reviews of popular products before making your purchase?
Here, you can find all sorts brands for your references. Besides commonly seen brands like Samsung, Apple, and Microsoft, you can also find Oppo, Xiaomi and more brands that might not be as easy to find in stores. In fact, in each and every category, shoppers can look at your favourite names and more, as well as purchase 2nd hand items on top of brand new gadgets.
Love traveling and need a camera? Try a portable GoPro, best for those who go on hiking or underwater scuba-diving trips where you need a quick camera to video or snap a few memorabilia shots. Need a quick thumb drive, SanDisk thumb drives are a popular choice to grab for their quality and storage space. ShopBack pits together the popular brands so that you can dive straight in.
Tech coupons up for grabs - save more, win big!
To save big on tech deals, check if there are any special coupon codes this season! You can find some on the respective websites, or by clicking on the merchant's pages on ShopBack for more info. These coupons could usually be used at the checkout point, where you can input the code or use the coupon in the designated area.
For some sites, you can have different coupons like cart coupons for everything in your cart, or store coupon, for coupons on items bought on the same store in the marketplace. For others, a one-time discount is placed on all eligible items upon entry of the tech code.
ShopBack cashback is not going anywhere!
Furthermore, by shopping on these merchant sites through ShopBack, you can also gain cashback! All you have to do is to ready your account, click on the merchant links to be redirected to the merchant site, and then shop on that same window itself. The cashback site is currently in partner with Lazada and other top electronics online store in the country. After you make your payment, the respective cashback will be credited back to your ShopBack account. It's as easy as one, two, three - just take extra care to complete your payment on the same redirected window!
Get up to 9% cashback as you shop, so what are you waiting for, time to clinch that tech offers now!