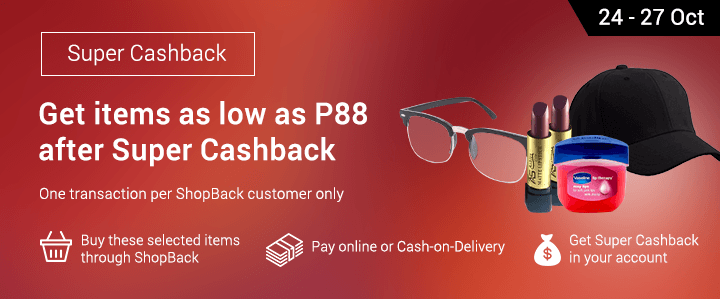 Get any one of these items for P88 after Super Cashback!
Super Cashback is Cashback that is larger than your average daily merchant Cashback. For a limited time only, a carefully curated set of hot products from brands you love will be at a Super Cashback rate.
Super Cashback items are only available to NEW ShopBack customers, previously registered before 23 Oct 2017 or newly registered (NEW ShopBack customers are those with 0 orders on their Shopback account)
Items shown below subject to stock availability on store's website and can be removed or replaced at any time. ShopBack reserves the right to amend / append / withdraw the terms & conditions without prior notice. Orders that are 1) not made via ShopBack, or 2) suspected to have fraudulent intent (eg. creating multiple ShopBack accounts), will not qualify for the bonus Cashback.
Pay the price shown on the store's website first, get initial Cashback, then get Super Cashback later that will end up in you availing the product at the listed ShopBack price.
Prices shown are accurate as of 24 Oct 2017 and bonus Cashback will be given based on the "+ PXX Super Cashback" portion shown for each item, where XX varies per item and is final.
First you get the normal Cashback and then Super Cashback will automatically reflect on your account 24-hours after your purchase.
Prices are subject to change without prior notice depending on the store's terms.
Amount of Cashback stated initially will not change even if prices change.
Item stock levels are unpredictable thus some Super Cashback items will be unavailable once they run out from the store.
One(1) Super Cashback item per customer only.