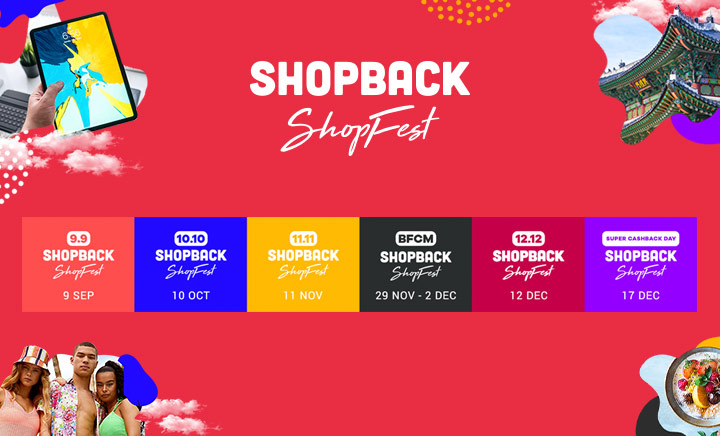 What is ShopFest?
ShopFest is THE year-end shopping festival in the Philippines. Spanning from 9 September 2019 to 23 December 2019, the event helps you navigate the labyrinth of year-end sales by shedding light on who, what, where, when, why and how to shop smarter on this year's shopping season.
Organised by ShopBack, the year-end shopping festival headlines six major online shopping events designed to delight shoppers with diverse needs. Littered with tips and tricks to help you locate your best buys heading to Christmas. ShopFest marks the beginning of all your shopping escapades from travel, dining, fashion, marketplaces, electronics and more. Make ShopFest your first stop for your year-end shopping desires now!

ShopBack's ShopFest – The Biggest Shopping Festival of 2019
"Ber" months are coming, so expect to see lots of sales here and there. Letting out their inner shopaholic-self during this time of the year had been a tradition for most Filipinos for a long time. Whether its buying for gifts or personal wants and needs, September to December are the perfect months to let it all out heading to Christmas. With all the discounts, left and right, it is really confusing and hard to identify which really are the best deals. Thankfully, ShopBack is here to help and act as your companion for a smarter way of shopping. Though for this year's end of season sales, it will start on a best note and end with a bang with the grandest online shopping festival – ShopFest.
9-9, 10.10 Sale, Online Revolution, 12.12 Sale, Black Friday, Cyber Monday and of course Christmas Sale these are the events that comes on top of everyone's mind when year end season is around. They all have the best discounts and deals on popular brands which make the respective events stronger by each year. This time around, ShopFest will redefine your shopping experience on these sales by bringing them all in one place, not to mention the best vouchers each event has to offer!
Collaborating with the Philippines' Biggest Names in E-commerce
Starting with 9-9 Cashback Day on September following it up with Black Friday, Cyber Monday and of course the iconic 11-11 and 12-12 Online Revolution of Lazada Philippines on November and December. Then having the grandest ending with New Year Sale on January – expect that there's always the best vouchers and deals that you can choose from! Not to mention the each sales that other E-commerce sites will hold on their respective industries, the likes of Shopee, Honestbee, Foodpanda, Zalora, Expedia and many more.
Shoppers can not only expect massive discounts on these sites' promotions, but also the mega cashback that they will get on their purchases! This online festival will not only make you a smarter shopper, but a huge money saver as well. Talking about getting those desired gadgets, clothing of yours without breaking a sweat and emptying your pockets!
ShopFest overall, is a superb showcase of a better and smarter way of shopping online. With all the industries and online stores coming together, forming an online festival of sales and discounts like you had never seen before. Holiday season is indeed coming in fast, but so is ShopFest – bet you can now gear for it!
ShopFest Ultimate Experience
So you've identified the dates, logged them in your calendar, and have even started carting your purchases in preparation for the great sales bonanza that is ShopFest.
But wait! There's even more…
With every Qualified Order you make, you will earn points which in turn unlock levels in the ShopFest Ultimate Experience (5 Sep 2018 to 3 Jan 2019). And with each level you unlock, you are one step closer to winning awesome prizes like a stay at the luxury resort Labuan Bajo in Indonesia, a weekend getaway to El Nido islands, ASUS smartphones, Nintendo Switch consoles, Zalora vouchers, or a P100 cashback. Make sure you check our daily newsletters and Facebook page regularly to find special keys to unlock Treasure Chests that will help you to earn more points and bring you closer to winning epic prizes!
ShopFest Indonesia
ShopFest Malaysia
ShopFest Singapore
ShopFest Taiwan
ShopFest Thailand