PawnHero Marketplace Coupon & Sales in Philippines for March 2019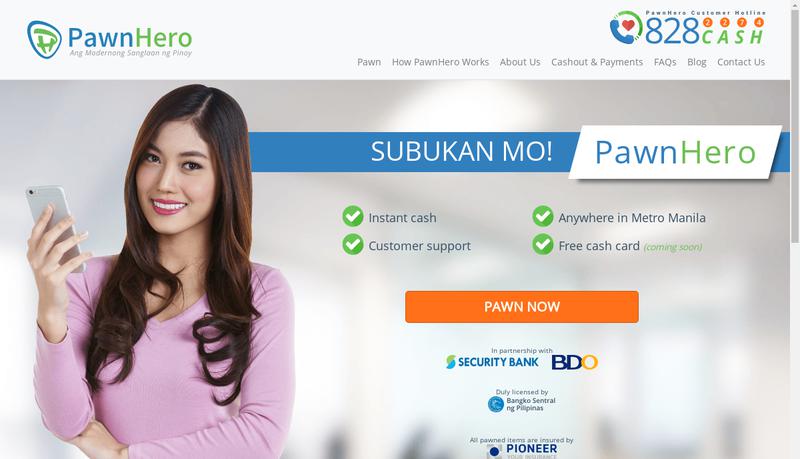 Get 3% CASHBACK And Enjoy Savings When You Use PawnHero Marketplace Coupons
Buy online from PawnHero, the #1 online pawnshop in SE Asia and get discounts + cashback! PawnHero terms and conditions apply. No code required. Valid for all customers.
Merchant's Special Terms and Conditions
ShopBack must be the last link you clicked in order to get Cashback. If other website links are clicked after clicking through ShopBack, Cashback will not be tracked (E.g. coupon and deal websites)

If for some reason your payment made on merchant page has failed, do click through ShopBack again and re-do your purchases to ensure tracking is still active

Return to ShopBack and click through to the merchant every time you are making a new transaction.

If you are making 3 separate transactions on the merchant, you should click through ShopBack 3 times, each time before making a new purchase.

For more details: www.shopback.ph/terms-and-conditions
More about PawnHero Marketplace
Check Out ShopBack Philippines For PawnHero Marketplace Coupons, Deals, & Vouchers To Save!
PawnHero offers one of the lowest rate of interest which is 2.99% per month and they also give a lot of PawnHero Marketplace coupons, vouchers, and deals to help you save even more! Here are some examples of PawnHero Marketplace coupons that they have given:
Deal at books-a-million and enjoy PHP 100 off at Uber Eats + free delivery
On sale at Hollywood mega store
Week's double take deal on sale at PCM
On sale at Pawnhero only on the mug and men's dresses
Use promo code and save on laptops
Get discount voucher on your order using this special PawnHero Marketplace promotion 2018 code
Exclusive 20% off site wide
Enjoy 30% off on annual membership
Get 30% off on Tungsten Eclipse watch set
Get up to70% discount on authentic pre-loved items
For even more of such deals, check out ShopBack Philippines which offers discounts, coupons, and even 3% cashback when you purchase items from PawnHero Marketplace.
PawnHero is certainly a website that offers unbeatable prices on their items. They also offer various regular promos and exclusive coupon codes if you sign up with them. Above that Shopback Philippines gives a plethora of vouchers so that you can enjoy incredible savings. And with the additional cashback, this means you are getting some money back for shopping!
To ensure that you get the cashback make sure to complete your transaction, from the same window PawnHero Marketplace which you were redirected to. This cashback along with discounted prices for the items will surely make your day while you shop!
For sites that offer almost everything under the sun, check out: Amazon Japan, Great Value Plus, and Zalora.
How To Use PawnHero Marketplace Coupons To Save Money
There are various ways to shop and save but ShopBack is a website which offers special savings. ShopBack gives plenty of deals and coupons and also real cashback when you use the platform to shop the various merchant websites. The vouchers, discounts, and coupons will bring you extra happiness as you choose and shop, and buy your favourite items for an extremely low price. Here is the simple process of how you want to use the ShopBack to save:
Search for ShopBack Philippines in your web browser
Make an account or log in to your existing account in ShopBack
Search for PawnHero Marketplace and look out for discounts, deals, or coupons that interest you
Decide and click on the coupon button and it will take you to the PawnHero website
When redirected, shop as you usually do and add the items you want into your cart
While checking out you can use the ShopBack code over discounted price (if any)
You will receive the cash back in your ShopBack account after a set period of time
PawnHero Marketplace – The Safe Place To Save And Get Cash
The PawnHero Marketplace is the #1 online pawn shop in Southeast Asia, which was first launched in the Philippines in February 2015 to solve the problem of quick loan needs. PawnHero aims to solve the problem of expensive credit for consumers who hardly have a bank account or credit card. They accept a wide range of pawn-able items that include jewellery, electronics, luxury items, home equipment and other personal properties for a secured loan.
In the Philippines, PawnHero first launched as an online pawning and selling website source which was managed by Pawnhero PawnShop Philippines Inc. In March 2015 PawnHero was awarded with a Judge's Choice award in the Top 100 Start-ups Philippines Qualifiers for Echelon Asia Summit 2015 and three months later it won the Judge's Choice Most Promising Start-up awards in Singapore.
The marketplace carries branded fashion items such as handbags, watches, jewelleries, and even diamonds for highly discounted price. You can get authentic and pre-loved branded items at a discount of 70% or more off their market value. Best of all, you can also completely trust the store and the authenticity of the items. The products on PawnHero Marketplace are all checked by expert appraisers and are confirmed to be 100% authentic before they are put up for sale.
The wide array of item categories will surely not disappoint customers. You will can practically get everything you possibly want in the PawnHero Marketplace. Whether it's a second-hand smartphone, musical instruments, a tablet, or products from brands such as Canon, Acer, or Lenovo etc. Best of all, they are always on incredible discounts and can definitely beat the price of sale items in the original store.
If you are also looking for branded outfits, a designer bag, or a branded watch you will find global brands like Christian Dior, Louis Vuitton, and so on. Apart from clothes, bags, and watches, you can also shop for jewellers and diamonds which are authentic and cheaper than market value. They also have some unique and vintage items along with several limited edition type pieces. As usual, PawnHero offers regular sales around the year where you can snatch up valuable items for a much lower price tag.
The mission of PawnHero is to provide more convenient and reliable financial service to all Filipinos when they need a quick cash loan. The hassle-free manner in which they provide instant cash loan is only possible with the use of advanced modern technology. They also offer lower rates of interest in the country, as low as 2.99% per month.
Unlike other traditional pawn shops, they provide some of the highest appraisal rates as well as loans that are renewable every month, without any hidden costs or charges. They are often mentioned to assist the Filipinos with their financial needs.
PawnHero Marketplace Offers A Wide Variety Of Products
Here're some of the products which you can expect to find on PawnHero Marketplace:
Smartphone: Acer, Allview, Apple, Asus, Blackberry, Casio, Fujitsu, Gigabyte, Google, HTC, Huawei, Lenovo, LG, Motorola, Nokia, Oppo, Samsung, Sony, Vivo, Xiaomi
Tablet: Nokia, Allview, Apple, Asus, Blackberry, Xiaomi, Casio, Gigabyte, Google, Acer, HTC
Designer bag: Alexander Exchange, Anne Klein, Alexander McQueen, ALDO, Armani Exchange, Balenciaga, Bottega Venta, call it spring, Cartier, Celine, Chanel, Chloe. Coach, Diesel, Dior, DKNY, Dolce and Gabbana, fendi, Furla, Goyard, Gucci, Hermes, Jimmy Choo, Kate Spade, Lanvin, Liz Claiborne, Loewe, Louise Vuitton, Marc by Marc Jacobs, MCM, Michael Kors, Miu Miu, Mulberry, Myriam Schaffer, Nancy Gonzalez, Prada, Proenza, Schouler, Salvatore Ferrangamo, Tods, Valentino, Yves Saint Laurant
Luxury watch: Aeropostle, Alba, ALDO, Anne Klein, Apple, Armani Exchange, Audemars Piguet, AVI-8, Ball, Baume & Mercier, Bell & Ross, Breil, Bretling, Bulova, Burberry, Bvgari, Call it Spring, Carl F. Burcherer, Chanel, Chpard, Fossil, Gervil, Gucci, Franck Muller, Festina, Hublot, Hugo Boss, Hermes, IWC, Jaeger LeCoultre, Kobler, Longines, Luminox, Maserati, Movado, Omega, Orator, Orient, Oris, Panerai, Patek Philippe, Rado, Raymond Weil, Rolex, Seven-Friday, Samsung, Swiss Military, Tissot, Tudor, Welder, Wenger, Zenith, Zeppelin, Zodiac
Jewellery: Gemstone, Gold, Loose Diamond, Platinum, Silver, Stainless Steel
Laptop: Dell, Aorus, Acer, MSI, Sony, Toshiba
Camera: DJI, GoPro, Hewlett – Packard, JVC, Kyocera, Leica, Mustek, Nikon, Nokia, Olympus, Pentax, Ricoh, Panasonic, Samsung,
Television: Alba, Changhong, Devant, Gradiente, Haier, Insignia, LG, Sceptre, RCN, Quasar, Samsung, Sceptre, Skyworth, Sony, Tanberg, Sylvania, TLC, Thomson, Toshiba, United, Upstar, Vestel.
Game Console: Beats by Dre, HTC, Nintendo, Oculus VR, Sony, Microsoft.
How PawnHero Marketplace Works
PawnHero is a safe, fast, and convenient platform to work with. The process is easy and safe for the people who ever wants to use it.
Get a free appraisal in minutes: You can submit photos and details of your item to get a free appraisal and can schedule a free pickup anytime at convenience.
Receive your cash on the same day: You can receive your cash on the same day the company appraises your item through your bank account or other options for pay-out.
The company gives back your item: When you repay the loan and the company returns your items you get it fully insured and you don't need to pay any shipping cost.
The way you receive your loaned amount: PawnHero has their professional official couriers known as 'Pawn Troopers' who handle and pick up your items. Through your bank account or other suitable pay out methods you will receive your loaned money.
Safer Transaction
You can get your cash with just a few clicks unlike the hassle of visiting a traditional pawn shop, and it is completely safe and convenient to pawn your items.
All the items that you surrender to PawnHero are fully insured and kept in the company's high security warehouse.
How To Know When Your Loan Is Due & How To Extend The Loan
You can find details about the maturity date of your pawn ticket which you will receive after the pickup of your item. If your loan is due, PawnHero will notify you via SMS and email in advance, way before the due date. You can also view your ticket status anytime through the website.
To extend the loan time you can talk to the customer service and get comfortable options. There are also different ways to pay your loan. Choose from a wide array of payment methods, which makes your deal easy and convenient. You can securely pay your loan without any hassle. The various methods to pay the loan are:
Cash transaction: You can pay via bank deposits, fund transfer through BDO, BPI, Metro Bank, Union Bank, or through the cash at payment centres like Bayad Centre, SM, LBC, ECPay etc.
Electronic banking via Net Banking: You can use your ATM card online and pay through the BancNet. PawnHero accepts all debit cards from the major banks through DragonPay including PawnHero Card.
7-Eleven & Connect Service: You can pay through all the 7 Eleven outlets across the nation and there is no need to bring the actual pawn ticket. You can just show the reference number received via email.
Coins.ph: Coins.ph is an online concierge service for loan payment where you do not have to line up (saves you the hassle). It also does not include any fees for your payments.
Here are the instructions for Coins.ph payment area:
Make an account or log in to your existing account at Coins.ph
Navigate the tab 'Pay Bills'
Click on it and view the drop down for 'Bill Type' and select 'PawnHero'
Click on the dropdown and select 'Bill Type' and then 'Merchant'
Fill up your name, reference number, due date and the payable amount of the required fields
Complete the payment by clicking on the 'Pay Bill'
PawnHero Contact Information
If you want to reach them and speak to a customer rep directly, then use this information given below:
Main Hotline: 828 CASH (2274)
Global Hotline: 0917 872 CASH
Smart Hotline: 0999 222 CASH
You can also send customer service an email which requires you to provide:
Full name
Mobile number
Email address
Subject or Concerns
Message
Or message them on Facebook via their official PawnHero FB Page
Alternatively, you can visit them during business hours (Mon - Sat, 9:00am to 7:00pm):
PawnHero Pawn Shop Philippines, Inc.
7th Floor, W Global Centre
30th Street Corner 9th Avenue
Bonifacio Global City
Taguig City, Metro Manila
Follow PawnHero On Social Media To Learn About The Latest Vouchers & Deals
We all LOVE vouchers and deals! So if you want to be the first person to be informed about any updates, follow the social media platforms of merchants to be able to check out the latest and exclusive promos items you might like. The Philippines based social media addresses of Pawnhero Marketplace are:
Going outside, getting in a long queue, and being pushed around with the other shoppers so that you can get your favourite items is a thing of the past. Online shopping and buying stuff online has never been more convenient and PawnHero is no exception.