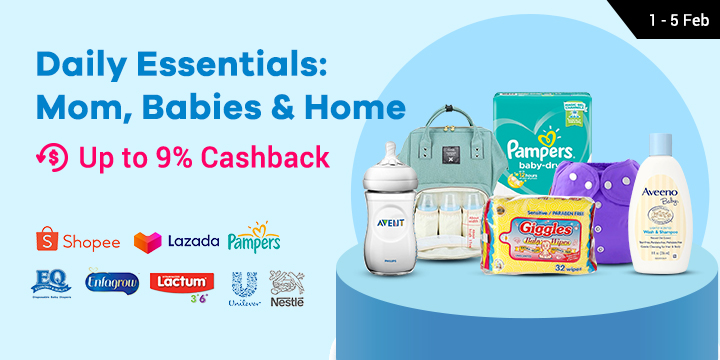 Best deals of Best brands
Buy more from these stores
Parenting doesn't have to be expensive with ShopBack's Baby Fair
Nothing could describe the overwhelming joy when you receive the bundle of joy for the first time - or second, or more. There is just something heartwarming when you cradle the newest addition to your family, but with the blessings of the newborn, comes new responsibilities. Parenting is no easy task, being a lifelong teaching and experience for both the parent and the child. On top of the time needed to care for the child and guide them on the right path, parenting is also taxing on the wallets, particularly during the baby to toddler years.
From diapers, milk powder, clothes, to baby accessories and toys, baby products could cost quite a bit of coin. Not to mention how quickly children could outgrow their clothes and dietary requirements. Burning through these baby stuff is not only mentally straining, as you have to keep track of your child's growth and changing needs, but also financially draining due to the upkeep needs. Thus, parenting is considered an expensive phase, as the accumulative costs seemed endless. With so many things to get on a monthly - some, weekly - basis, where and how can you start saving?
One way to do so is to draft out a rough plan of what you need and take note of existing stock. This way, where there are major sales, it's time to stock up! Purchase some of the necessarily baby stuff and stock up as required. Baby products such as diapers and milk powder could be kept in the stock with a longer shelf life, not to mention, as you will always need them till your child is around 3 to 4 years old.
Where do you find baby items for sale, you ask? Often, reading through the catalog of supermarkets and baby stores will give you the latest update and discounts on the items. Another way then, for the internet savvy, new generation parents, would be to source for kids babies deals online! Read on to find a couple more tips on how to chip and save whenever you can, all the while not compromising on giving the best to your child.
Baby products that are a necessity: diapers, wipes, and milk formulas
Before we dive right into the shopping list, categorize our shopping a bit. What is the necessary baby stuff that we need at home? These are expenses that cannot be ruled out and have to be included in our bi-weekly or monthly shopping cart. From there, we can look into the available baby brands that best fit your child. If you have a certain brand favourite, then you can go ahead and add that to your shopping cart.
The first few items that came to mind under this category would be the baby diapers, wipes, and milk formulas. For any parent, keeping the child clean, refreshed, and well-fed is a fool-proof formula for calming a crying child. And these rack up some of the highest expenses throughout the child's babyhood. So, it makes great sense to stock up on them during large discount periods, or one-for-one promotions.
Besides baby diapers, wipes as well as milk formulas or baby food, keep a ready stock of things that need to be replaced or replenished often. These include the likes of pacifiers, baby powder, and baby shampoo. While these usually last for a longer time, their shelf life tends to be longer as well, making it easier to leave it in stock at home and will be useful whenever you run out.
However, do take note not to slip into the mindset of purchasing more than you need! After all, as the newborn grows older, they can outgrow diapers as well. Milk formulas also change with each semester, as the nutrition a child needs would increase over time as well. Having too much stock with expiry dates incoming would make it difficult to consume or even resell or gift it to a friend, resulting in a waste. Thus, some simple planning is always the way to go!
Keep your child's nutrients in check with healthy baby snacks
Nutrients are important to the growth of any child. Baby formulas, soft baby food to vitamins and biscuits, there is a variety of baby snacks to choose from for your kid. At every stage of their growth, the amount of nutrition they need changes and increases. Thankfully, there's a full stock of baby cereal from Nestle, baby formula from Wyeth, Enfamama, and Similac, and soft foods from Heinz - and more - available online. No matter what type of food you are looking for, for babies or teething toddlers, you will find a good mix here!
Besides baby milk formulas, it's also vital for mothers to replenish the lost calcium and nutrient from having and giving birth to the child. After nine long months of harboring the child to the full term and eating for two, mothers tend to lose a lot of vital supplements in their bodies after birth. Thus, it is important for mothers to upkeep with vitamins and other supplements as well.
All these could be found in mom and babies food deals, so don't forget to check them out!
Fashion options are checked with baby clothes sale
It's every parent's dream to doll their child up in the prettiest clothes possible. From cute onesies with witty captions to gentlemanly shirts and princess-like dresses, there are endless combination possibilities. More often than not, we like to bring our child shopping in reputable stores so that we can feel the fabrics on site. There is an innate qualm about making fashion purchases online prior to checking for its quality, especially when it comes to babies and toddlers.
However, look no further! Brands like Disney Store and GAP kids are available online, ensuring you the best of their quality online. Not only can you get these comfortable outfits with the press of a button, they will also conveniently be delivered right to your doorstep! Get tops, bottoms and comfortable pajamas too, covering both sleepwear and outgoing outfits.
Looking for particular deigns not available on your favorite brand? Head over to the marketplace! The best part of these online marketplaces the likes of AliExpress, is the fact that customers can drop honest reviews, thus allowing you to have a better feel of the individual sellers as well as their products. Details of the items such as the type of fabric, the percentage of cotton, and size dimensions are all listed on the page itself. Furthermore, you can contact the sellers directly if you have any additional queries. Marketplaces are best for finding unique baby accessories at a competitive rate.
Dressing up need not be an expensive trip if you could make use of discounts online as well. To help widen your wardrobe choices, try getting a few different tops and pants to mix and match. Alternatively, changing up different accessories like a hairband, cap or the outerwear could give varying vibes every other outing with your child. Look out for vibrantly colored clothes, or shirts with cute cartoon characters to win your toddler's hearts.
Discounts on strollers and carriers for a great day's out
Bringing children out can be a tiresome affair, with many things to carry along. But all the efforts can be worth it as your child marvel at the sight of something new, taking in the world at her pace - and giving all housewives and househusbands a break from the four walls as well! No doubt, strollers, and carriers become your trusty friend to keep your child close and safe.
There are all sorts of sling backpacks available depending on your needs. Are you someone who prefers to have your child cradled in your arms, or is your toddler a curious one that liked to view the world from your back? Or you're simply one who loved the best of both worlds? Regardless of which objective you choose, there's bound to be one that fits your preference. Do take note of the grip, material, and ways to wear the carrier before making your purchase.
Strollers these days too, boast of all sort of different functions, including a carriage space for you to put your bag of baby items. A lightweight stroller would be great for babies as you take them on a walk around the park, or if you're traveling far and would need to carry the stroller for a distance. A larger one would fit families who liked to do their shopping while they're out so that it fits your shopping bags as well. More so than choosing between the weight, be sure to read the reviews and baby stroller description to ensure you're getting a well-secured stroller.
With the customization options available, you can beautiful your stroller, or add items like soft cushions and blankets, all available online at marketplaces like AliExpress.
Cashback and promo codes, a double deal for baby toys
Another important thing to note - baby toys! Baby toys are not only there for entertainment purposes. Most of these toddler toys are designed with the aim of providing vital growth of the body and mind of the growing child. This helps them to develop complex thinking and communication skills. On top of that, baby toys provide for great bonding time with your young ones. While educational DVDs are great as well, nothing says more than the memories made with the toddler in their growing up years.
Choose a colorful children's book to read to them, or play building blocks to develop their conceptual thoughts. There are all kinds of toys depending on your budget and your focus on growth at the moment, each with their age-range recommendation for your child.
Roam baby shops online for the best discounts
Many of the well-known baby brands could be found online these days. This includes the popular MamyPoko pants, Huggies, Pampers diapers, Aveeno, and Nestle baby cereal, among others. Whether you're looking for food, outfits or even large items like strollers, an assortment of baby stores online offers you a good range of selection. Not only is it easier to match prices alongside several sites, there are also coupons you can use to save a few more bucks!
This is especially so for marketplaces like Lazada, where you can have store discounts as well as cart discounts. Mix and match the available coupon codes for the highest amount of savings each time you make a purchase, and it's all these little details that will accumulate into something more. Besides, seeing familiar brands is insurance on quality, especially if you have a specific brand that you find is best-suited for your child's needs.
Furthermore, instead of being on the active search door-to-door at the brick and mortar stores, baby items for sale are now brought to you! Large online sales are great ways to grab and stock up on necessities, while smaller flash deals are also great ways to earn some savings. After all, if these spending are necessary, why not make your purchase in a timely manner that could help out save up?
Large banners would adorn these sites when these deals pop up, so you don't even have to actively keep an eye out for it. Alternatively, check out our pages for the latest kids babies deals and promo codes, or simply bookmark this page!
Shop at baby stores with extra Shopback cashback
That's right, Shopback offers extra cashback with every purchase you made through our platform. Just search for your favourite brand, or look at our curated items above. Click on whichever that caught your eye, and wait to be redirected to the actual site. Then, just shop to your heart's content on the same page, and check out!
Our cashback offers is on top of the promo codes and mega sales going on the various sites. This means you can save even more, making every shopping trip convenient and more cost efficient. What are you waiting for? Join ShopBack, spread the word and start checking out your weekly shopping list!