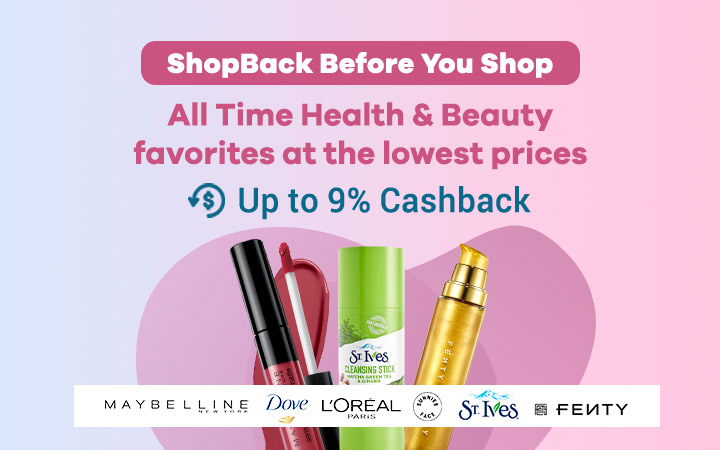 Look youthful and radiant with ShopBack Philippines
Beauty is a highly subjective topic, with everyone deciding for themselves what constitutes as beautiful. Ranging from slight highlights that bring out the natural beauty to a paint-by-numbers regime, every individual has a different requirement of beauty products. However, every tube or bottle often has a hefty price tag attached to it that can be quite demoralising for a beauty enthusiast.
With ShopBack Philippines, individuals can get access to a gamut of beauty products from around the world at massive discounts!
Upgrade your cosmetics during this Makeup sale
We have all experienced a slight sense of discomfort after a makeup shopping spree where a handful of products are enough to lighten our pockets. Makeup is anything but cheap, yet a necessity one cannot avoid. With a plethora of coupon codes and discount vouchers at ShopBack Philippines, shopping for makeup just became a lot more affordable.
Pamper your body with luxurious skin care products
An indulgent body scrub or aromatic bath salts are perfect to sink into at the end of a long day. The right body care range helps cleanse, exfoliate and moisturise the skin to say youthful and radiant. During the body care sale at ShopBack, individuals in Philippines can get access to all these luxurious products and more.
Ranging from body lotions, creams, sunscreen and a gamut of other products, this sale brings products from across the globe on one platform. Further, with ShopBack Philippines offering generous promotions and discount offers, looking beautiful has never been this easy!
Buy only the best at ShopBack Philippines health and beauty sale
These days beauty products are available plentiful. But Filipinos aren't recognised for using anything but the best beauty and health products. Youthful skin that radiates good health is often the hallmark of individuals in the Philippines. And now maintaining this just got easier.
With trusted brands like Sephora on the platform, one can buy only the best products for their skin. In addition, users can read reviews from their peers about every product and make an informed decision before purchasing anything.
Get access to top international cosmetic brands
Your favourite celebrity just revealed their skin care routine and you couldn't be more excited! Nonetheless, as you rush to your nearest store the excitement dims when the shopkeeper tells you they don't even know what you are talking about. Often local retailers are unable to stock up on some of the international brands.
However, with ShopBack, this isn't a concern. Bringing together merchants from all over the world, one can find a mix of local and international brands online. Add to this a discount voucher or promo code and shopping for beauty became a lot more exciting.
Now you can simply login to the website, purchase the same skincare products like your favourite celeb, activate a ShopBack discount code to save big, and begin pampering your skin!
Let your eyes do the talking
A popular saying is that the eyes are the windows to the soul. And what better way to showcase the beauty of your soul than through beautifully made up eyes. Give your eyelashes a volumising boost with a mascara or get ready for the evening party with smoky eyes. Explore the abundant palette colours for shades that suit your look and personality and develop your own unique sense of style.
A bold look with a strong eyeliner or a muted look with a pastel eyeshadow? Explore all these styles and more during the ShopBack Philippines sale!
Tame that mane for a stunning look
So you got your makeup on and the clothes fit just right – you are on top of the world till you look at your hair! A bad hair day can send all your other hard work down the drain. With a plethora of haircare products on ShopBack, taming the mane just got a lot easier.
Take your pick from the various conditioners, serums, hair masks and other products available. Don't bother with standard commercial products, instead choose those that are specifically designed for your hair texture. What's more, with deep discounts and promotional offers, you can buy the finest products on ShopBack without stressing over your bank account!
Get dedicated beauty products for men too!
Beauty products are often associated with women causing men to have to hunt around a lot more for products they need. Additionally, going through beauty products at a store can be a little daunting and uncomfortable.
But fear not, as ShopBack Philippines hosts several brands that cater specifically to men too. Here, men can find a varied range of beauty products specially formulated for their skin's needs. Be it a hair gel, a subtle makeup kit, body creams or a lot more, this sale brings all this and more at various discounts. Now no longer do men have to settle for using women's beauty products or make do with whatever is available. They can actively choose the products they like to pamper themselves.
Discounts and deals on ShopBack Philippines
No longer do you have to stop yourself at just a couple of cosmetic products at a time or stress over the mini shopping bag in your hand that took a big chunk of your savings. Radiant beauty and good health no longer come at a hefty price thanks to the ShopBack Philippines sale. Here, one can find a variety of discount codes, coupons, sale items and promotional offers that offer customers a whole lot more value for their buck.
Scroll through the site to look for the latest discounts and shop to your heart's content. Along with deals that help you save money, ShopBack will also give you additional cashback that you can redeem for your next lot of beauty products.
With such great offers as well as a plethora of beauty products from leading international brands, this is the perfect place to refresh your cosmetic collection. Plan your look for the coming year as ShopBack brings you everything you need on one platform!