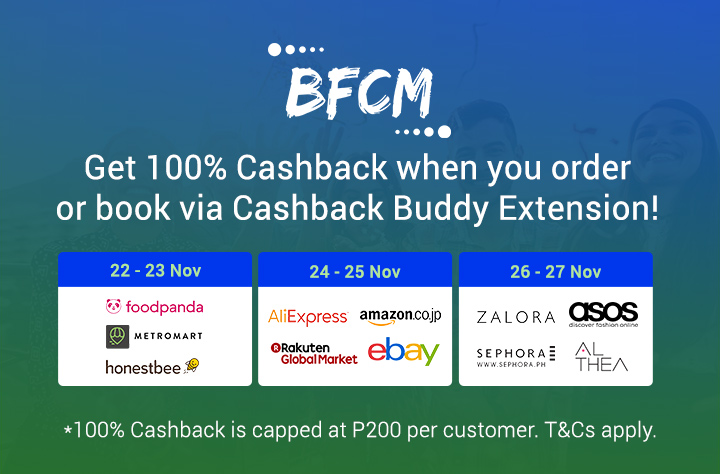 Market Place & Electronics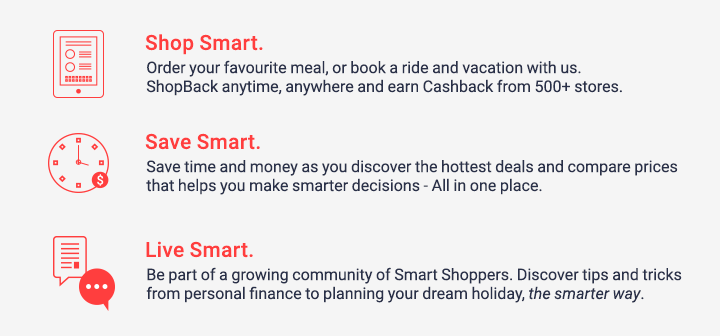 Cyber Monday Deals 2018 - One Last Chance That's Not To Be Missed!
If you missed Black Friday sales for whatever reason. The online shopping gods are smiling down on you because you've still got ONE MORE CHANCE during Cyber Monday! It's the Monday immediately following the Friday which Black Friday is on. You can probably guess from the word "Cyber" in Cyber Monday that it's all about the most electrifying and tantalising online sales and deals you can get. You'll be able to find the most diverse range of promo codes and offers here, and save the most amount of money you would ever save all year! This is the day that you will find the cheapest prices and biggest deals from our merchants and brands, including Zalora, Lazada, Sephora, honestbee, and more. Who said that Cyber Monday is only for the U.S or the UK? Rejoice, all online shoppers, for Cyber Monday deals are out in full force here at ShopBack Philippines!
So don't be too disappointed if you missed Black Friday - maybe your laptop broke down? - because Cyber Monday is when you have another rare opportunity to scoop up great deals and enjoy massive discounts - perhaps on a brand new laptop to replace the old one which just died?
Cyber Monday Deals Come To ShopBack Philippines
What is a Cyber Monday, you may wonder? It was a marketing term that turned into one of the most important shopping days in the history of online shopping. Unlike the rest of the year, you will find the most unbelievable coupons and promo vouchers, some amounting up to even 80% for some new products. All our available Cyber Monday promotions are guaranteed to be the very best, and courtesy of ShopBack Philippines, they are all here in one convenient online shopping portal. If you have something that you have been searching for a long time, and you won't get it without savings from discount codes or gift vouchers, this sale is just perfect to finally get the savings you want. With vast array of promo codes from the biggest online stores like Lazada vouchers or Honesbee promo codes, you will surely and definitely love online shopping even more!
Pinoy Cyber Sale offers the most desired fashion deals
The biggest fashion brands at ShopBack Philippines are worth getting because of their quality and top colours. However, the cashback site has gone one step further with latest Cyber Monday codes for apparel, shoes, bags and more. It is well known that this shopping event is an excellent day to get the cheapest fashion deals and voucher codes of the year, so don't tarry with getting the best right here. To name one, merchants like Zalora always provides hot Cyber Monday deals for the many top brand names that are featured: Converse, Vans, Superdry, Levi's and the super-trendy Guess. This would be the day high prices will finally be a thing of the past with popular brand names, so don't miss out on all the best clothing deals the sale provides. Simply browse through our website as we've got everything you need right here!
Promo codes for all your desired electronics
Cyber Monday discounts also exist for all the various mainstream devices we love, such as Samsung Galaxy smartphones and Xiaomi MiPad tablets. If there is any reason to finally spring for that new gadget, let our exclusive Cyber Monday deals be the motivation to finally do it. Great deals online aplenty when you come into ShopBack: eBay, Lazada and AliExpress are just some of the best online merchants that gets into the festive action with Cyber Monday promotions. Never will you have more or greater deals online than with Cyber Monday. After all, Cyber Monday isn't called the greatest online shopping day of the year for nothing. There are never a shortage of deals and promotions available here.
Lifestyle Cyber Monday promotions
If you are a book worm, and you want the best book deals, both physical and electronic, you can always count on ShopBack to give you all the discount codes to drive prices to an all-year low. Likewise, if you are in need of decor and furniture, there are numerous Cyber Monday sales to make those big ticket items truly bargain priced. The bottom line is that whatever lifestyle products you are looking for, you can always find the latest voucher codes for them when you jump online. Don't fret about missed Black Friday offers, there is always Cyber Monday to bring the savings back.
Rejoice, ShopBack Philippines gives you cashback even on this sale!
ShopBack Philippines never lets you have any less than a great Cyber Monday. Not only will you be able to enjoy all the hot deals, but with our trademark cashback rebates you just know that every purchase you make would be the most discounted of all. We always strive to give you the most affordable and attractive prices, and we achieve this with an unbeatable combination of cashback and Cyber Monday voucher codes. What's even more amazing is that you will be getting cashback rebates even without any available discount codes.
How's that for the ultimate Cyber Monday savings experience here at ShopBack? And why not start with that shopping spree you've been holding for so long?