Coursera Promo Codes and Sales
You can get the Coursera courses at discounted prices by using sales and offers across the world. Start learning the best courses with a more affordable option. The coupon codes and deals are subject to change according to their validity.
7 day free trial on all courses

free 7 days on personal development courses

Free 7 days trial on Online data science courses

Enroll for python online courser and get 7 days free trial

Get free certification on selective courses and specializations

Best deals and offers on courses online

Learn to coding with Coursera

Courser machine learning Coursera promo code up to 15% off

Free courses with the financial aid program

Get 10% off on online business courses

Learn Ruby on rail web development course online for less

Coursera Voucher code for Python data science and Python Edx

Save on professional certificates from Top-Tier

Online Spanish course, free trial

Full stack of web development program

Coursera exclusive offers and discounts
Shopback discounts and cashback offer to save your wallet
Shop and save from Coursera by getting 15.0% cashback with the available discount coupons. This is how you can get the benefits of cashback if you use the link from Shopback to get the course from Coursera:
COURSERA Guides You to the Right Courses
Coursera is the world s leading online educational platform which provides high-quality affordable courses to the students. Collaborating with the top Universities and organizations, the brand ensure that the students are learning their courses in a friendly and an efficient environment, just like real-classroom.
Coursera.com – Finding Your Dream Course
Coursera was founded in 2012 by the professors of Stanford University, and in fall 2011 they offered courses from Stanford. Soon after their launch, the University of Michigan, University of Pennsylvania, and Princeton also offered online platforms for various courses. Right now not only they offer courses, but also specializations which build skills in a specific subject, useful for the business development, and the workforce. Now the company has announced a partnership with the Philippines department of Science and Technology (DOST) and moocs.ph, to prepare the citizens for the rapidly evolving workforce.
Coursera offers degrees too, in a variety of subjects such as engineering, humanities, medicine, biology, social sciences, mathematics, business, computer science, digital marketing, data science and many more. In October 2017, the website has 28 million registered users, and more than 2000 online courses. Their courses last for 2 to 10 weeks and they have one or two hours of video lectures to it. The courses provide exercises, peer-graded assignments, quizzes and final project or exam to get the certificate. The courses are taught by the top instructors of some of the world s best universities and educational institutions. Students can access all the courses through various smart devices, sitting at home or on the go. After completing the course, they will get a shareable electronic certificate.
A weekly schedule is provided to the students and the progress is tracked until completion, with the flexibility to complete the course ahead of time. The instructors also keep a Google hangout session, in real time to answer all the questions of the students. Students can also a post their queries in the forums, to ask for solution or discussion with other peers. The professors also give direct feedback to the queries.
Categories and sub-categories:
The conductive learning environment creates a bonding between the instructor and the students, which successfully provides high-quality education. If you are a new user, then you can start by searching 'coursera in the search engine and you will land on the original course website. After that either you can try for the subject you want to search to learn or go to the drop-down of 11 category menu with sub-categories:
Arts and humanities: History, Music and Art, Philosophy

Business: Leadership management, Finance, Business Strategy, Marketing, Entrepreneurship, Business Essentials

Computer science: Software development, Computer security and networks, Mobile and web developments, Algorithms, Design, and product

Data science: Data analysis, Machine learning, Probability and statistics

Information technology: Cloud computing, Security, Data management, Networking, Support and Operations

Life sciences: Animals and Veterinary science, Bioinformatics, Biology, Medicine and Healthcare, Nutrition, Clinical science

Physical science and engineering: Electrical engineering, Environmental science, and sustainability, mechanical engineering, Chemistry, Physics and Astronomy, Research methods

Social sciences: Economics, Education, Governance and society, Law, Psychology

Language learning: Learning English, Other languages
Different courses at Coursera.com
The courses are offered as single courses or the part of any specializations. After picking up a course from the categories and sub-categories, you will get an option to choose the language of study. Most of the courses are in English. The different types of courses you can find in the website are:
World s top university and the professors take part in the course design and teach the course. The individual courses are the single course which includes, quizzes, recorded video lectures, auto-graded and peer-viewed assignments, final project submission, live conversation with the professors regarding questions, and community discussion forum.
Before enrolling, students can read the overview of the selected course and short summary of weekly learning activities. The course is designed for week by week basis but the students can complete it at their own pace. They can make it within 180 days or even ahead of time. They can purchase Coursera certificate after completion of the course. Enquire if the courses are credit-oriented if needed. Reasons why you should take these courses from Coursera:
Online and open to everyone

Learn a new skill in 4 to 6 weeks

Earn a course certificate at the end of the completion
Coursera specialized courses are designed to master the specific topic that the students want to pursue. These courses put together 3 to 5 related courses. If you want to master a specific skill for your career enhancement you must join Specialization. You can complete the quizzes, tackle the projects on business challenges and earn certification. You will not get any free course option here, but a 7-day free trial is available, which you can cancel anytime. Faster you can complete more you can save. These certificates are sharable with your professional network and potential employers. Here are some reasons why one should take the courses:
Online course structure and open to everyone

Learn a new skill in 4 to 6 months

Earn specialization certificate
Career transformation sometimes can require a university-recognized degree. Coursera has some degrees and professional certificate coursework for the students and professional who wants to pursue them online. The courses further give facilities to allow the inter-group interaction and global networking. If you have further queries you can reach to the universities directly for further queries, of your chosen coursework. The company works with the university partners who offer flexible online programs in business, data science, and computer science.
Professional Certificates
Coursera Philippines also offers shorter courses which need to be completed within a year. Professional certificates provide a series of shorter courses and some of them do not require any admission too. However, experience may be a criterion for admission. The professional certificates provide academic credits required for your degrees. Enrolment could be done in two days. For enrolment, you just need to click on the blue button which says, 'Enroll below the syllabus section. The course will be registered in your account. You will get a digital certificate and you will also be able to display it to your LinkedIn profile. The course must be completed within 180 days or the student will have to repurchase the certificate again.
If you want to opt for free courses, you will have some limitations. Certificates are available only after you complete the course and purchase the certificate. You can complete the course and purchase the certificate. In some courses, few assignments are not available in free courses. They are locked and asked to purchase before accessing. However, you can still get the grade in free option and also, revisit the course anytime, as it will be there in your account.
How to attain the certificate
To get the certificate, the user has to complete an ID verification that requires to submit a photo of the student and a verified ID, as well as passing all requirements of the courses. Financial aid is also available.
Payment option is through debit or credit card from the following banks: MasterCard, Visa, American Express, Discover, and JCB. You can also pay by PayPal.
How to set up the account with Coursera
It is easy and fun to learn through Coursera, you need to set up an account first to access your personalized courses:
Search for coursera.org and go to the webpage

Sign up by clicking the top of the page

You can create the account by providing name, email, and password or connect with your Facebook account

Once you create your account you can change it anytime through 'change your account settings

You can also set up an account through the invitation to the learning program

To download the app in your mobile:

Search the Coursera app in your app store

While you install, you will be asked to give permission to download videos, and use your device s camera and verify your authorized identity
How to access the courses:
On Coursera the access to the courses is easy and comfortable. You can access the same course from various online devices.
Mobile learning: you can get the iOS and Android app on your phone to access the course when on the go.
Refund policy of Coursera:
Within the first couple of weeks of payment or the individual courses, you can get the refund. If you have already earned the course certificate then you are no more eligible for a refund.
For the subscriptions and specializations, refunds are not available. However, you can always cancel the subscription and stop the future payment, anytime you want. Refund through a mobile app is not allowed.
Just like the accessing the courses, the refund is easy with Coursera. With these following steps you can make a refund request:
Online social media of Coursera
Coursera help center is available to answer all your queries. Visit the FAQS page for any help. Follow the social media websites to get the latest news and offers.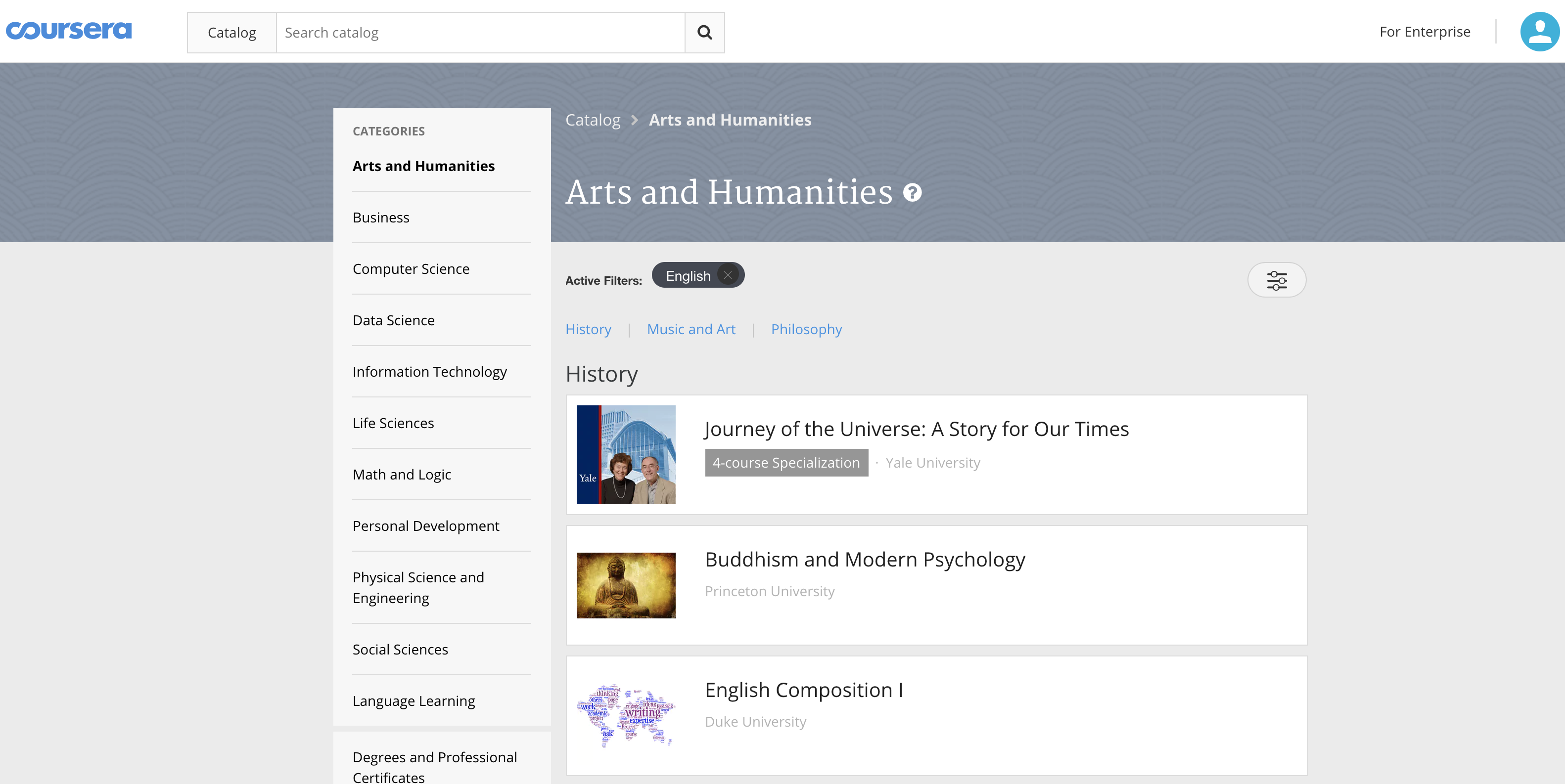 For starters, one could either search for a specific topic they wish to study. For example, if you are searching on Coursera coding topics, simply typing 'coding would bring up a series of related courses. Alternatively, they could go into the Catalog corner and pick from one of the 11 categories available. From language learning to social sciences and math and logic, diverse subjects are offered by Coursera.
After picking a category, you can view the sub-categories in further detail, such as history , music and art , and philosophy instead of the broader arts and humanities . A filter button at the side allows you to pick the language of the subject, with most courses offered in English. The courses are then split into singular courses or part of a Specialization.
What are individual courses?
Courses at Coursera last between four to ten week, with up to two hours of video lectures each week. Students can expect to find weekly exercises and quizzes, peer-graded assignments and occasionally a final project or exam up for submission. Participating students can also engage each other and their lecturers for discussions and peer-review in the course forums.
Before enrolling, you can read up on the overview of the selected course as well as a short summary of what you would be learning each week. Readings and lecture videos will be provided online. While these courses are designed for a week by week basis, students are encouraged to pursue them at their own pace. One can complete the course ahead of time, or take up to 180 days to complete the whole course for a purchasable certificate.
There are also user ratings and reviews, should you need more information from fellow peers in regards to workload and teaching styles. All these courses are not counted for credits, so please take note or enquire in further detail.
What is the Coursera Specialization?
Coursera Specialization puts together three to five related courses aimed to help you master a specific topic. These courses could last for a few months leading up to a year and could be completed by enrolling in the whole specialization, or a single course within the specialization program.
Coursera Specialization puts together three to five related courses aimed to help you master a specific topic. These courses could last for a few months leading up to a year and could be completed by enrolling in the whole Specialization, or a single course within the program.
Professional certificates to further your career
Besides a series of courses made available, Coursera has set up a degrees and professional certificate coursework for those who wish to pursue them online. These programs are identical with the ones on campus, similarly allowing inter-group interaction with a global network.
Find the curriculum on the page of the coursework that interests you, and reach out to the universities via their form should you have further queries.
The full tuition fees, costing up to USD$20,000 is an estimate that includes the course materials, resources, and textbooks. Students would even be given options to attend immersions and activities held by the university for the online MBA course. These courses are suitable for students who wish to pursue and further their careers at a more flexible time and place while balancing their work and life commitments.
For that not interested in the full MBA, specialization courses from the same degree might be available. Furthermore, Coursera financial aid would still be available for the specialization coursework in the online MBA.
Professional Certificates
Shorter programs of less than a year could be found here. Professional Certificates provides a series of shorter courses to be completed within a year. Depending on the program, there are no requirements for admission. However, experience in related field is recommended. The professional certificate could also earn you academic credits required for your degrees.
Enrolling: paid versus free courses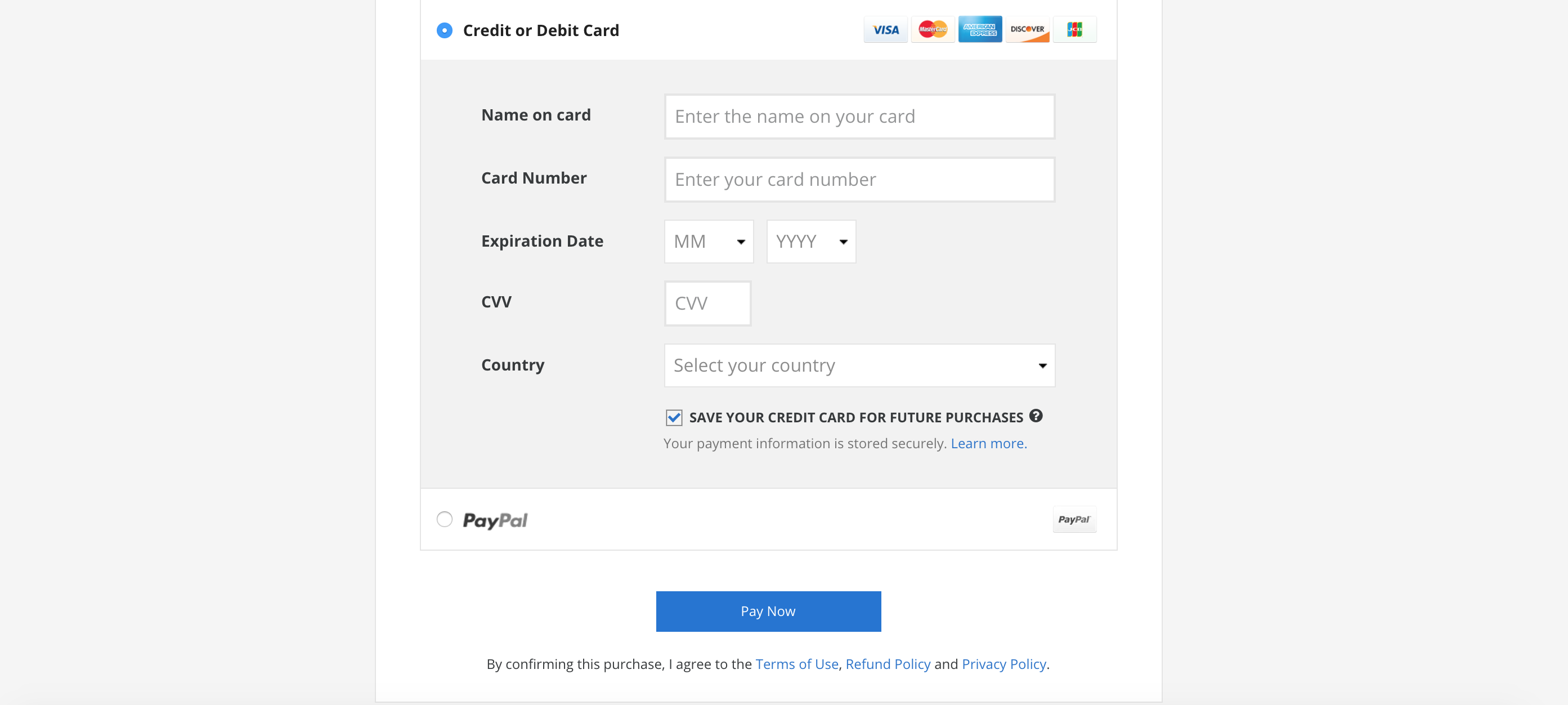 To enroll in a course, just scroll down to the blue enroll button below the Syllabus section. The course would then be registered in your account. Enrollment could be done in two ways. If you enroll for a Certificate, you would be paying US$49 as you commit to the coursework. The digital certificate will be sent to you and you are also able to display the completed course on your LinkedIn profile. The paid option also opens access to all resources and assignments. Please note that the course has to be completed within 180 days of the purchase to attain the Certificate, otherwise one would have to repurchase the certificate again.
On the other hand, the free option opens up the study resources to the students, but there might be limitations on certain assignments. If a user completed the course for free and wishes to upgrade to a Certificate option, they could make their payment after the course. However, they would also be required to complete any assignments that were locked prior to the option purchase. A grade will still be assigned to you even in the free option.
All coursework would still be made available in your account even after the course is completed. This means you can revisit the subject at any time you please.
To attain a certificate, the user has to complete an ID Verification that requires you to submit a photo and verified ID, as well as passing all requirements of the course. Financial Aid would be made available for those who need a helping hand.
For Specializations, enrollment will give you unlimited access to all courses in the program. However, there is no free course option here. Instead, you have a 7-day free trial which you can cancel at any time before the trial ends at no penalties. Thereafter, you would need to pay a monthly fee of US$49 to continue learning after the trial ends - this means the faster you complete the course, the more you could save. The enrollment will also give you unlimited access to all courses in the specialization.
Payment options available include credit and debit card from the following: Visa, MasterCard, American Express, Discover and JCB. Payment could also be made via PayPal.
Coursera coupon codes for lower fees
Coursera has always prided themselves in providing education to a wide audience from a diverse pool of educators and schools. From free courses, financial aid, and paid options, knowledge seekers can choose from a flexible schedule and pick the payment option that is best suited to their budget.
For those who wish to purchase a Certificate course, do keep your eyes pleased for Coursera codes. From time to time, you can find Coursera discount codes on major sales events, allowing you to get a discount on your favorite course.
Extra savings with Coursera sales and ShopBack cashback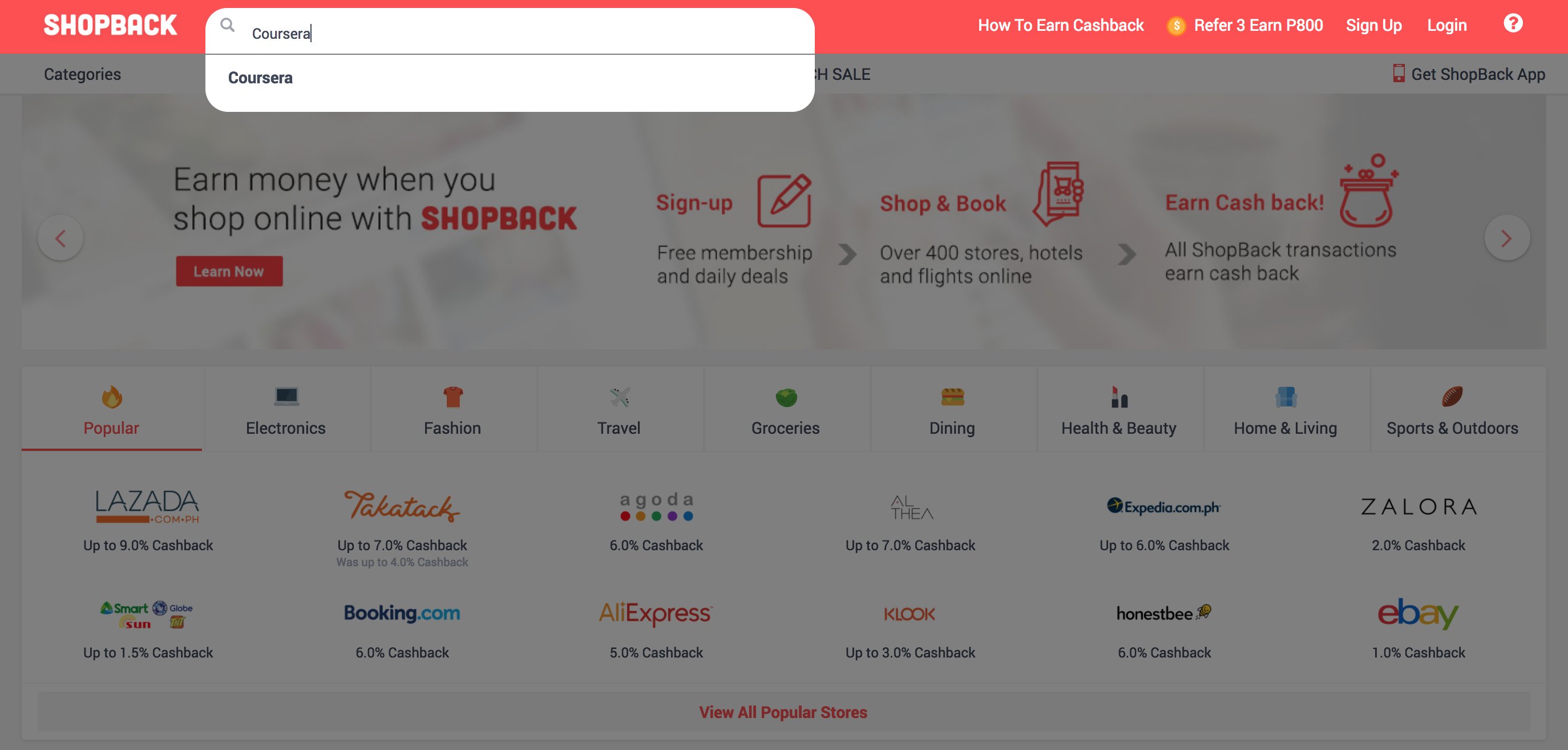 using Coursera discount coupons, combine with ShopBack Philippines cashback to earn greater savings. Earn up to 15% cashback when you go through the following steps:
Step 1:
Login to ShopBack Philippines and search for Coursera in the search bar.
Step 2:
Review the list of Coursera voucher codes and promotions available and select the desired offer. In the case of a given promo code, click on 'copy to copy the code so that you can input it upon checkout.
Step 3:
At the redirected Coursera homepage, complete your purchase as per usual. Make sure to complete the transaction on the same tab.
Step 4:
That s it! All you have to do is to wait for the cashback to become redeemable in your account.
With four simple steps, you are entitled to more savings with each time you shop online. ShopBack s cashback is an additional benefit to the existing Coursera promo codes made available. Get the best of both worlds and the best price available through ShopBack!
Return policies – cancelling of classes
For individual courses, refunds are allowed within the first two-weeks of your payment. Users are not allowed to get a refund if they earned a Course Certificate, or if the request has passed the two-week limit.
For Specializations and subscriptions, refunds are not available. However, you can cancel the subscription at any time and end future payments.
Requesting a refund on Coursera is easy; however, refunds are not yet available on the Coursera mobile app. Should you need to request a refund but could not find access to a computer, please reach out to Coursera s help deck. To make your request, follow the following steps:
Step 1:
Open My Purchases page and click on the course you want a refund for
Step 2:
Click on Get Refund under the Refund Deadline column. Should this option not exist, the refund deadline has passed.
That s it! A confirmation email will be sent and the user would be un-enrolled from the course. However, if you like to continue an audited version, you can re-enroll at any time. Allow up to a week for the refund to be fulfilled.
Coursera has a help center available for quick, commonly asked questions. Visit the page by scrolling down, under the More section, and clicking on the Help tab. Should learners require more personalized help, submit a request ticket using the Contact Us button at the bottom of the different FAQ pages.
To stay up to date with the latest announcements, new courses and deals from Coursera, follow the site on their various social network sites.
Connect with Coursera via