13 Milk Tea Stores in Manila That Are Open For Delivery and Takeout
Mark, 6 months ago
6 min

read
964
Satisfy your sweet tooth with these milk tea stores in Manila!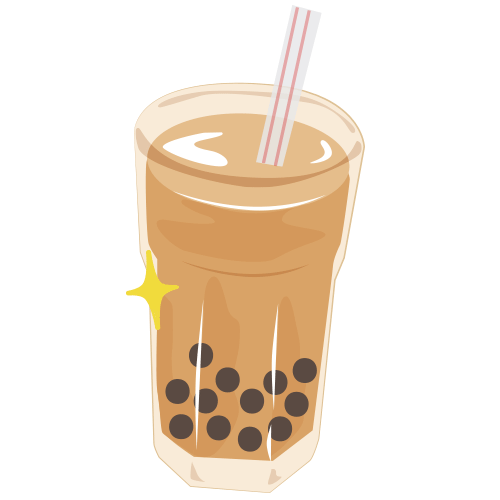 Milk tea mania is alive and well in Manila. Almost all corners of the capital city are packed with milk tea shops that are waiting for eager customers to dine in. But since most of us are locked at home to practice social distancing, going out to have a milk tea date with your barkada is not feasible at the time being. Fortunately, you can now order your go-to drink at your fingertips! Time to quench your cravings—here are Manila's top milk tea stores that are open for delivery and takeout during the moderate enhanced community quarantine:
13 Milk Tea Stores in Manila That Are Open For Delivery and Takeout
1. Moonleaf Tea Shop

(all branches)
Takeout only
Bring out your adventurous side by trying Moonleaf Tea Shop's special Yakult Milk Tea. With a boatload of fruit choices under their Yakult line—such as Peach, Strawberry, Lychee, Passionfruit, and Jasmine Tea—you'll get to indulge in the goodness of their drinks at an affordable price! Get up to 20% off your drink when you book on Klook.
Order now
2. Cha Tuk Chak

(all branches)
Takeout only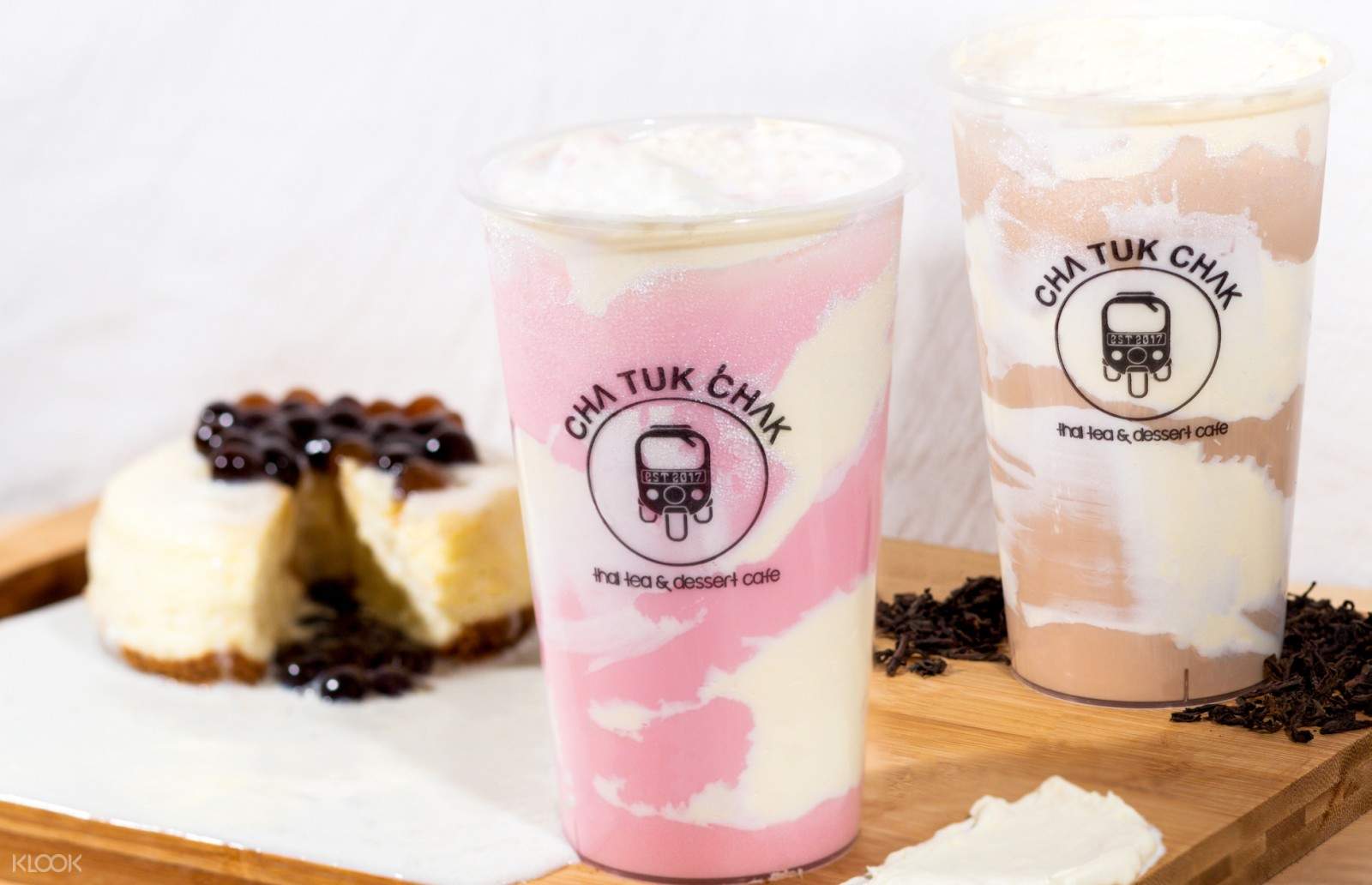 Get your Cha Tuk Chak fix through their famous Cheesecake Duo Package. This duo package comes with both the Pink Milk Cheesecake and Premium Cheesecake Milk Tea—a perfect deal for you and your significant other! Book your Cha Tuk Chak voucher via Klook and get 11% off your order.
Order now
3. Tantea
Delivery and takeout available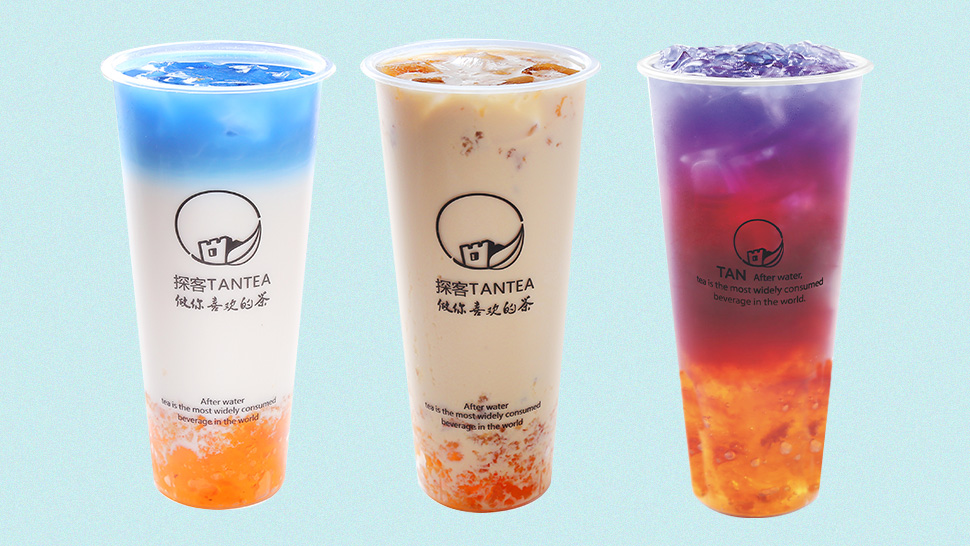 Get two drinks for the price of one with Tantea's BUY 1 GET 1 series! You can explore with uber-refreshing flavors like Panna Cotta and Yogurt or settle with your all-time favorite Milk Tea! Book using Klook and get up to 50% off your order.
Order now
4. Cafe Amazon
Delivery and takeout available
Are you a green tea lover? Cafe Amazon's green tea selection will make you forget your name! Try their matcha-rap Green Tea with Milk + Free Upsize or Green Tea Frappe + Fresh Milk Frappe to reward yourself after a busy WFH week! Enjoy up to 33% off your drink when you book through Klook.
Order now
5. Bobbitea Milktea House
Delivery only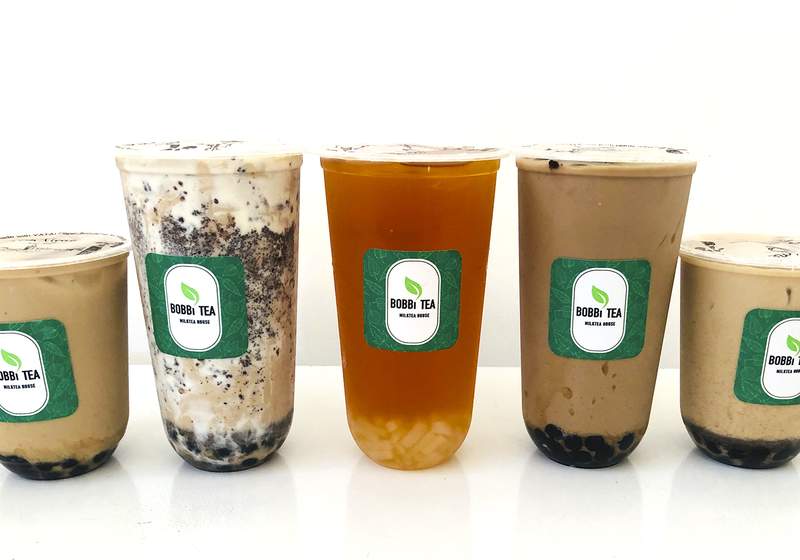 Love your fruits? Then you'll definitely fall in love with Bobbitea Milktea House's fresh and zesty fruit tea drinks available in the following flavors: Lychee, Green Apple, Blueberry, Strawberry, Wintermelon. Get up to 10% off your order when you book on Klook.
Order now
6. Coldlayers Cafe
Delivery only
There's no better time than now to give in to Coldlayers Cafe's BUY 1 GET 1 Classic Milk Tea. This milk tea is deliciously refreshing, perfect for those who prefer the typical milk tea that everyone's familiar with. It can't get any more basic than this! Book your drink via Klook and get 50% off.
Order now
Takeout only
Fan of bundles? Get more than what you pay for by treating yourself with Good Good's Klook-Exclusive Milk Tea Bundle! The bundle comes with the following combinations: Yakult Green Tea + Grapefruit Green Tea, Wintermelon Bubble Milk Tea + Grapefruit Green Tea, Black Bubble Milk Tea + Grapefruit Green Tea, Triple B + Grapefruit Green Tea, Double B + Grapefruit Green Tea, and more. Enjoy 49% off your order when you book on Klook.
Order now
8. Chachago
Takeout only
Chachago is a premium milk tea brand that originated in Taiwan. From the signature Chachago Pearl Milk Tea to the mouthwatering Brown Sugar Milk Tea, you'll surely get to taste Taiwan's authentic milk tea flavors! Order through the Klook website or app and get 20% off.
Order now
9. Chemistea
Takeout only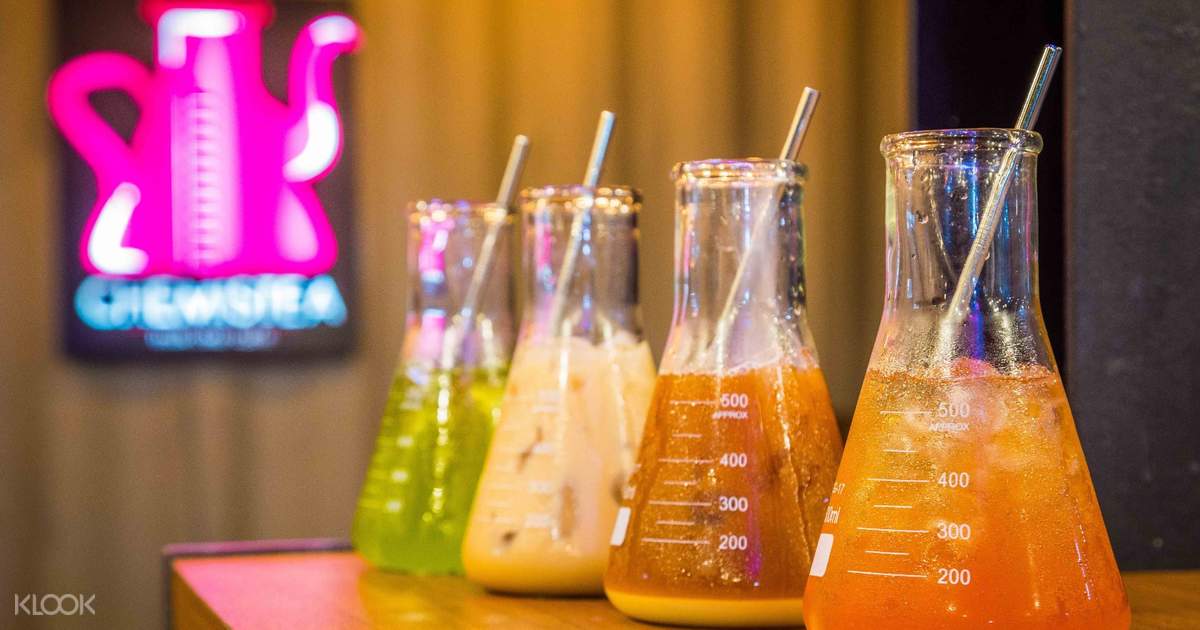 Get your endorphins high with Chemistea's milk tea packages: Helium, Lithium, and Beryllium. This milk tea concept store serves its drinks in conical flasks. The fun part about ordering from Chemistea? You'll get to customize your drink and identify how strong you want your milk tea to be! Pretend you're a scientist for a day and get up to 14% off when you order via Klook.
Order now
10. H Cafe
Delivery only
H Cafe is a reliable milk tea place for when you're craving for something sweet. Their Sakto Size Milk Tea is a good option for those looking to quench their milk tea cravings but doesn't want to get too bloated after finishing a cup. Order on Klook and get 16% off.
Order now
11. Tea Portal
Delivery and takeout available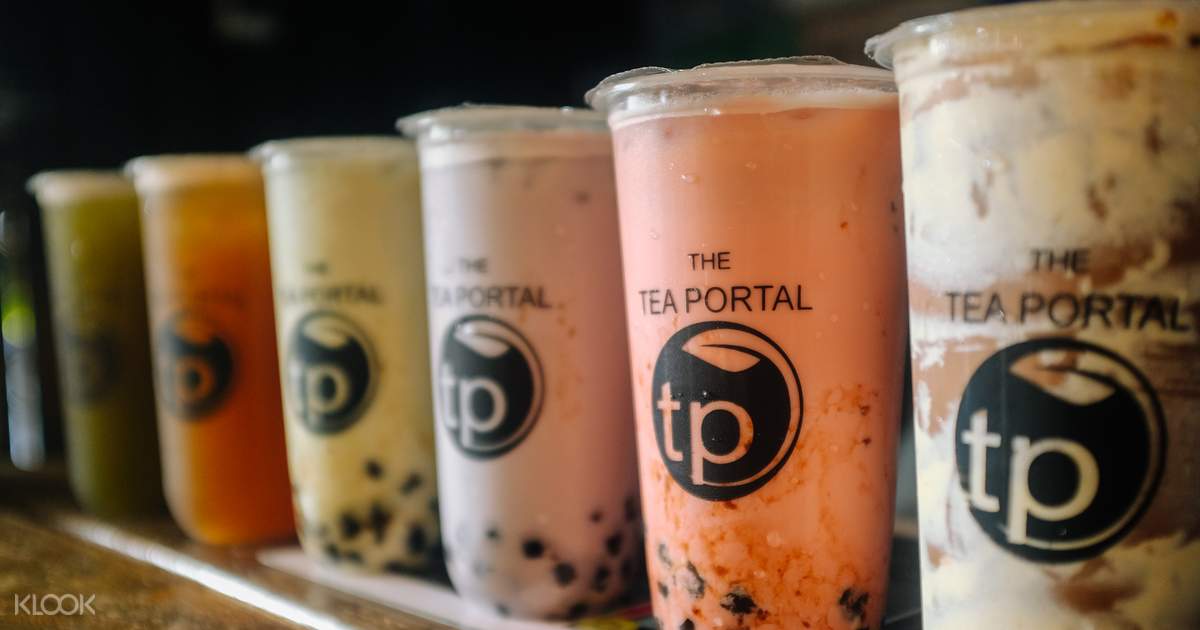 Do you live near Maginhawa? If so, Tea Portal is the place to order your milk tea! They offer the classic Milk Tea, the flavorful Fruit Tea, and Keto Specials for those who are currently on a diet. Book on Klook and get 20% off your choice of drink.
Order now
12. La+Tearia

(

Taft

and

UST

)
Delivery only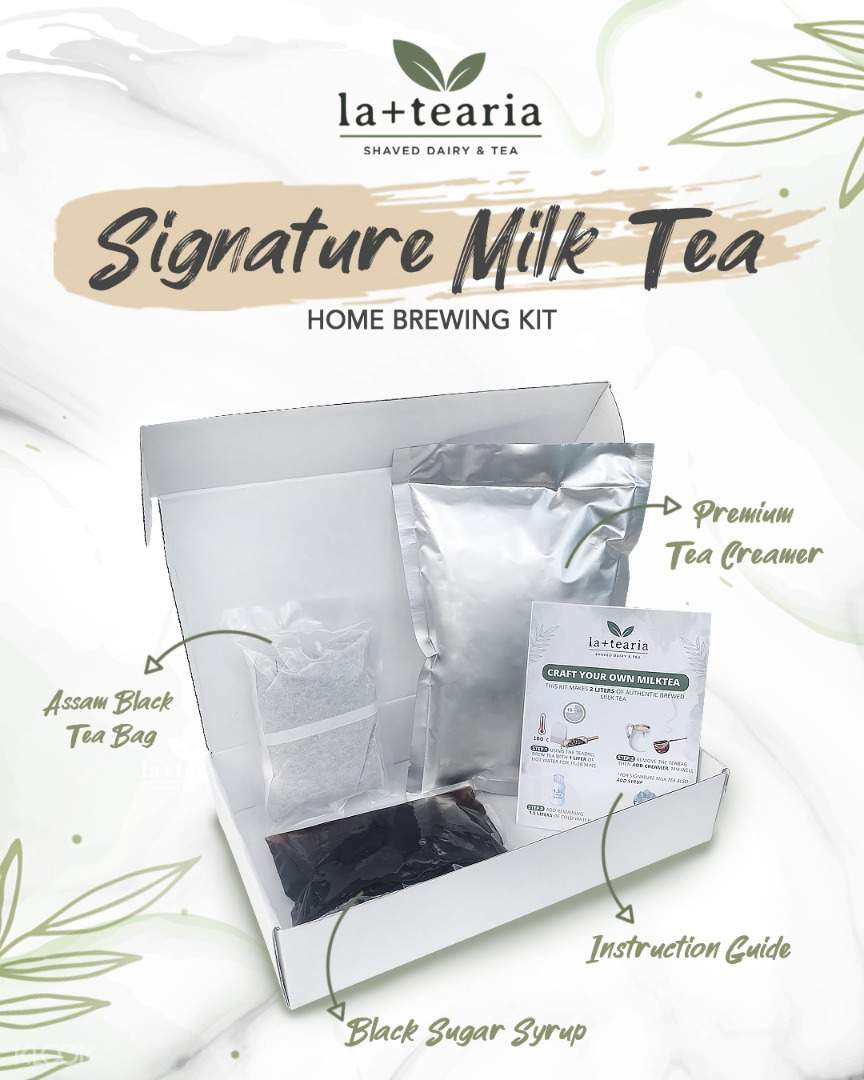 Want to make your own milk tea at home? Try La+Tearia's Milk Tea Home Brewing Kit! Their kit comes with a tea bag, sugar syrup, creamer, and instruction guide to help you bring out the unique flavors of your milk tea. Order now via Klook to get 10% off.
Order now
Delivery and takeout available
Last and definitely not the least on our list is Sakura Hanami! This milk tea store sells the Klook-Exclusive Choco Banana Milk Tea that's perfect for those looking to satisfy their choco cravings! Book your drink through Klook and get 20% off your order.
Order now
---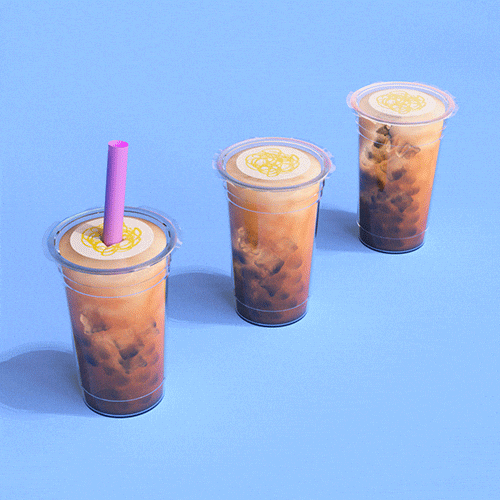 We know you love using ShopBack to earn Cashback while shopping for your sweet cravings online! Make sure your notifications are turned on so you're always updated about ShopBack's latest discounts and deals! Learn how you can earn money while shopping here.
---
ShopBack is a Cashback reward platform that allows savvy shoppers to earn a portion of their online spendings as Cashback. You get all the best deals and discounts from your favorite online stores and earn Cashback that you can easily payout to your bank account. Join ShopBack now to make the best experience out of your online shopping.
---
Share this article with your family and friends
Recent posts
Search
ShopBack Stores in Other Countries