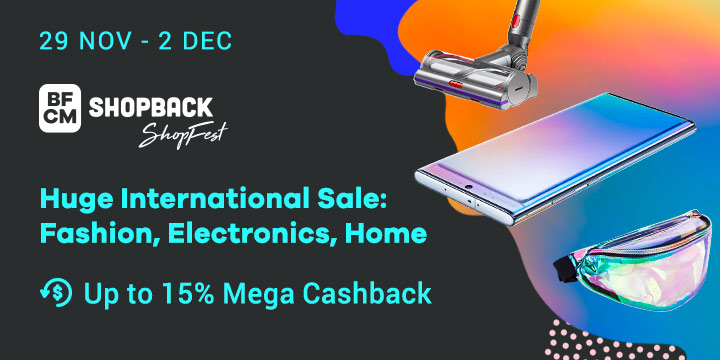 Black Friday Sales 2019 - Deals & Discounts
Ah... Black Friday. Quite possibly one of the days where one can get the greatest online shopping deals, is back again on ShopBack Philippines! This is the day when you'll find massively discounted prices and unbelievable deals from almost all of our merchants, stores, and brands. And because ShopBack has so many partners, you're sure to find something that you're looking for, or are already using/buying stuff from on a daily basis.
Don't believe us? Just read on...
Want to buy a variety of items and be able to compare in order to get the best prices from different vendors? No problem, we've got Lazada, AliExpress, Amazon JP, Rakuten Global Market, and even eBay.
Need to get your beauty fix? Why not check out BeautyMNL and Sephora where you can get everything from makeup brushes, palettes, to eyeliners.
Fashion lovers fret not, because you can get the best deals from Zalora in order to revamp your wardrobe or simply update it with the latest and freshest. Want to get the best selection of groceries to prepare healthy and tasty meals? We've got Walmart on deck to give you the best produce at the best prices. Too lazy to cook or just have a craving for some of your favourites? We've got honestbee and foodpanda on standby to help you satisfy whatever craving you might havee! Even booklovers can get in on the action and find great deals at BookDepository.
When you shop with ShopBack, it's guaranteed that there'll be something for everyone. Be it the latest electronics or gadgets like laptops, X-box, PS4, Nintendo Switch, TVs, computers; to the latest fashion trends in clothing, footwear, and accessories!
The Origins Of Thanksgiving Sales
Black Friday as some call it, is an informal name for the day following Thanksgiving Day in the United States. And in some way, it marks the beginning of the massively crazy Christmas shopping season. It came into existence when there was a surge in retail traffic and sales after Thanksgiving Day and retailers started to turn profit, thus going from being "in the red" to being "in the black". And while traditionally, many would have to queue for hours on end in order to finally scramble and fight just to get ahead and get the best Black Friday promotions, the ability to shop online means that shoppers can enjoy the thrill of Black Friday shopping from the comfort of their own homes. And more often than not, with just a few handy clicks of the mouse.
Top Categories For Black Friday Shopping - What Do People Search For The Most?
While there is an interest in buying almost everything - right from food to clothing there are a few items that people search the most and are popular in interest. People usually search for laptop deals, shoes sales, phones, televion, computer, clothing, camera funrniute and so. There are searches happening mostly around electronics which seems to be the hot category for the audience. Mobile phones (Xiaomi, Samsung Galaxy) and laptop deals are the ones that take the top spot in interest while clothing and accessories seem to follow closely. Unlike the rest of the year, you will find the most unbelievable Lazada vouchers, Grab promo codes, Foodpanda promos and some amounting up to even 80% for some new products. All our Black Friday deals are guaranteed to be the very best, and courtesy of ShopBack Philippines, they are all here in one convenient online shopping portal. If you have something that you have been searching for a long time, and you won't get it without savings from discount codes or gift vouchers, Black Friday is just the perfect day to finally get the savings you want.
Mega Cashback Deals To Sweeten Your Black Friday & Cyber Monday Shopping
If promo codes, coupons, vouchers, and discounted deals aren't enough... Well, ShopBack always has your back with cashback. And guess what? A mega sales event like Black Friday deserves MEGA CASHBACK to really help you save as much as you can, in order to buy everything that you ever wanted or could imagine. How mega is MEGA? Just check out what we've got in store for you:
20 - 26 Nov
Rakuten Global Market (20% cashback)
22- 26 Nov
23 - 26 Nov
23 - 27 Nov
24 - 27 Nov
Yep. It's that awesome. So take note of the dates, mark your calendars, and get ready for the biggest shopping spree of your life!!!