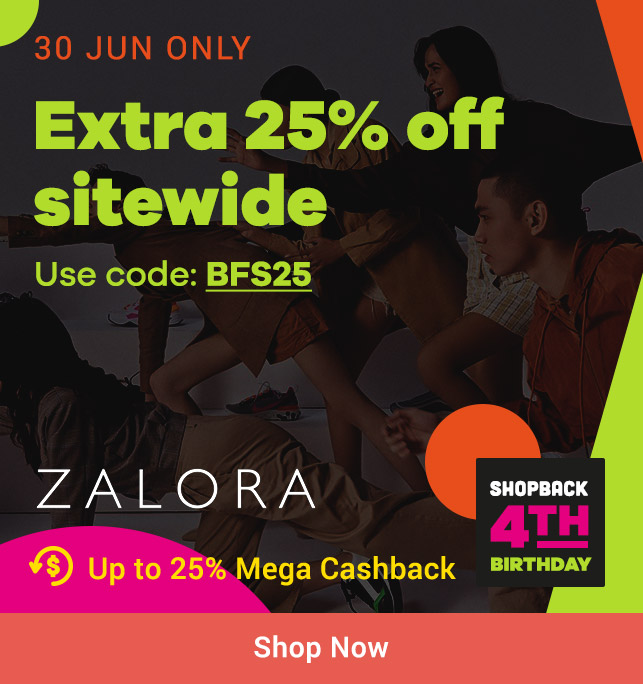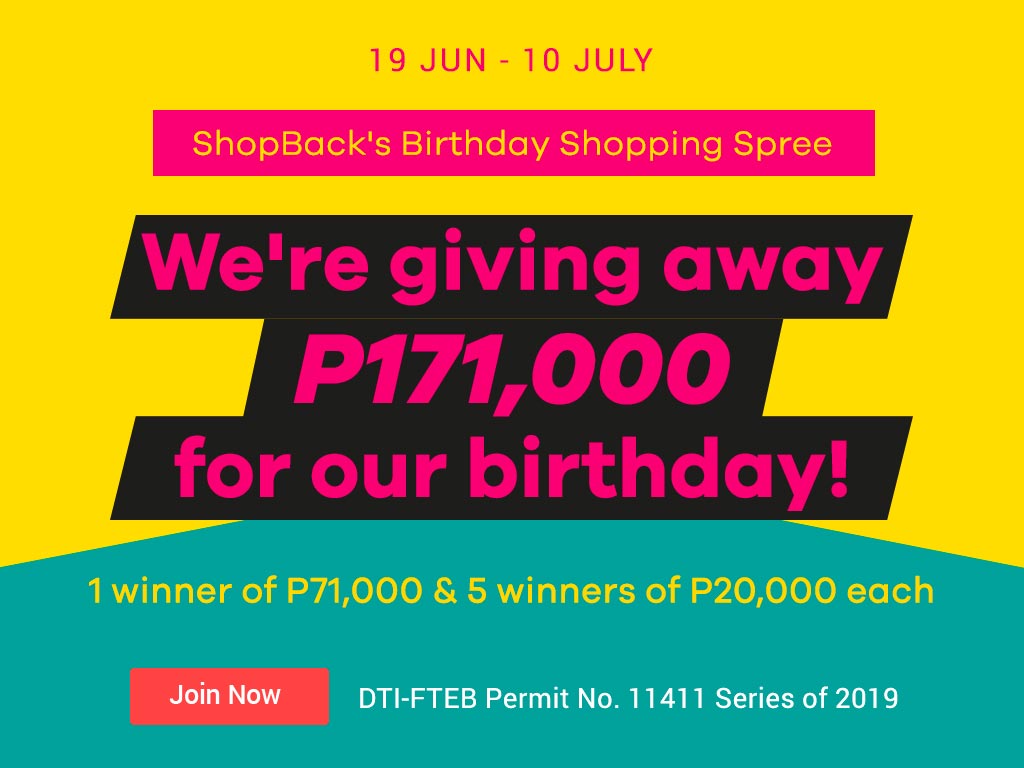 MORE DEALS FROM OUR STORES
How to Join and Win ShopBack's Birthday Shopping Spree:
1. To join, you must shop on ShopBack's website (www.shopback.ph) or mobile app from 19 June 2019 to 10 July 2019.
2. You will earn one ticket every time you buy through ShopBack with a minimum spend amount of P300 per order.
3. Double Ticket Earning: You will earn two (2) tickets when you order from any of our Platinum Partners (KLOOK, Shopee, Lazada, Foodpanda, Zalora) with a minimum spend amount of P300 through ShopBack website or app from 24 June - 30 June 2019.
4. You can earn as many tickets as you want within the duration of the giveaway.
5. There will be 6 winners. One winner will get the top prize of P71,000 Cashback, and five winners will get P20,000 Cashback each.
6. Winners will be drawn on 20 July 2019 at the ShopBack office in the presence of a DTI representative.
7. Announcement of winners will be at the event on 21 July 2019 at Eastwood Mall in Libis, Quezon City and on ShopBack's official Facebook page (www.facebook.com/ShopBackPhilippines)
ShopBack's Birthday Shopping Spree Terms and Conditions
1. This giveaway runs from 19 June 2019 to 10 July 2019.
2. Participant must have at least one ShopBack purchase with a minimum spend of P300 which entitles them to 1 ticket.
3. This promotion is valid for all ShopBack users (New customers & Existing customers)
4. Winners of past giveaways can still join this raffle.
5. Winners will be required to send an electronic copy of their valid government ID for the crediting of prizes.
6. Prizes are not transferrable or convertible to cash.
7. Any items within the order that do not earn cashback will not be counted towards the minimum spend requirement.
8. Any order returns, refunds, cancellations, and failed payments from the participant's account within the promo period will be disqualified from this giveaway.
9. Orders that are 1) not made via ShopBack, or 2) suspected to have fraudulent intent (eg. creating multiple ShopBack accounts), 3) later cancelled, changed or refunded and, for travel orders in particular, if no-shows occur will not qualify for this giveaway.
10. Winners will be picked via electronic raffle on 20 July 2019 in the presence of a DTI representative at ShopBack's office.
11. Winners will be contacted on 21 July 2019 and will also be reflected on our official Facebook page (www.facebook.com/ShopBackPhilippines).
12. All prizes are tax free.
13. All employees of ShopBack Philippines including their relatives up to the second degree of consanguinity or affinity are disqualified from joining this raffle.
DTI-FTEB Permit No. 11411 Series of 2019.
ShopBack Philippines Birthday Celebration
Celebrate ShopBack's 4th Birthday with epic cashback deals from your favourite merchants! From 24 – 30 June, enjoy savings on products offered by our top merchants. Earn up to 90% cashback on ShopBack Philippines 4th anniversary and enjoy huge savings.
On top of huge discounts, there will be giveaways from RedDoorz, Klook and Zalora! Win free tickets to your favourite amusement parks and e-vouchers to shop online. Grab discount codes during this period to get lower prices and better deals.
How To Activate Cashback During ShopBack's Birthday
Download ShopBack on your mobile phone. With the mobile app, you can easily activate cashback on your favourite items while shopping online.
Install Cashback Buddy on your browser and activate cashback when you shop on your favourite shopping platform.
Epic Cashback
Zalora – Get your fashion on with Zalora and start filling your closet. Get up to 18% Mega Cashback during ShopBack's Birthday! Shoes, dresses and shirts? Zalora has got your back.
Klook – Get 10% Epic cashback when you shop on Klook! Buy tickets for your favourite amusement parks and tours for your next holiday!
RedDoorz – Book your next hotel and earn 12% Mega cashback all the way until 30 June. Never worry about getting the most bang for your buck for your next trip.
Shopee – Shopaholics rejoice! Shopee will be giving you big savings then next time you shop online for electronics, home & living and many more!
Foodpanda – You don't have to move an inch the next time you feel hungry. Get food delivered to your home and receive some rewards in the form of cashback.
Giveaway
Win up to P171,000 in Cashback Prizes when you shop online with ShopBack! All you have to do is make purchases with our top merchants and activate cashback! It's that easy!