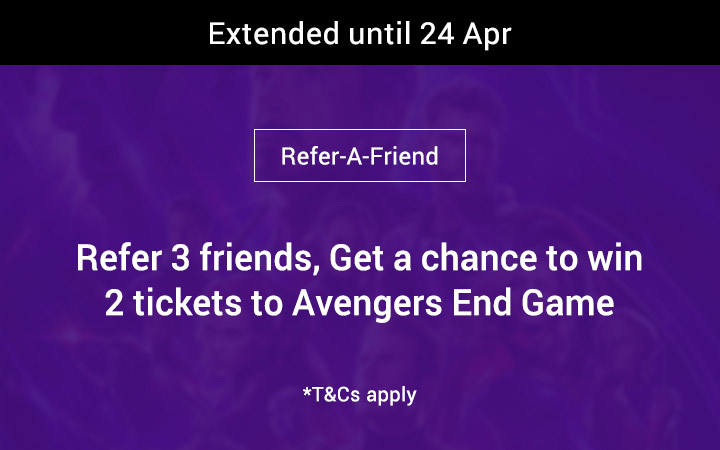 How to Win 2 Avengers End Game tickets:
You must successfully refer at least 3 friends on ShopBack from 10 Apr, 2019 to 24 April 2019.
A "successful referral" is a new member of ShopBack referred by the giveaway joiner that signs up on ShopBack and makes a single order totalling a minimum of P250 (total amount of P250 should be without delivery fee and is already the final amount after voucher and discounts are used). Any items within the order that do not earn cashback will not be counted towards the minimum spend requirement. If your referred's order is later cancelled, changed or refunded and, for travel orders in particular, if no-shows occur, your referral will be revoked.
Top 20 ShopBack referrers with the most successfully referred friends by 23:59 24 April 2019 will be chosen as the winners to receive two(2) AVENGERS End Game movie tickets. Winners will be picked on 23th April 2019 with the presence of a DTI representative.
Avengers Terms and Conditions
Participant must have at least one ShopBack purchase with a minimum of P250.
Participant must successfully refer 3 people on ShopBack using their ShopBack account referral link.
Showing will be on 28 April 2019 7PM at SM MOA Events Cinema.
Announcement of winners will be posted on the ShopBack website (www.shopback.ph/avenge-the-wallet) by 25 April 2019 at 8PM and will also be reflected on our official Facebook Page (https://www.facebook.com/ShopBackPhilippines/).
Winners are required to show (1) Valid I.D. before the showing (28 April 2019) to the ShopBack booth on the cinema before entry. Tickets can be claimed until 5 PM of April 28, 2019 at SM Events Cinema No.xx. Ticket for the referrer winner can be transferrable as long as there's an authorization letter presented to the ShopBack Booth on the block screening day. Extra ticket for the plus one can be used by whomsoever that will be chosen by the winning referrer.
All prizes are tax free.
Winner's transportation, food, and other expenses in relation to the prize will be shouldered by the winners.
The following is a non-exhaustive list of activities that are not permitted and that will disqualify you from being an eligible joiner:
Self-referral
Posting your referral link on any ShopBack merchant's Facebook or forum page
Keyword bidding for the purpose of generating traffic to pages containing your referral link
Any similar activity determined by ShopBack in its sole discretion to be inconsistent with the purpose of ShopBack's Refer-a-Friend Programme.


Per DTI-FTEB Permit No. 6397 Series of 2019