Get P500 Cashback: First 5,000 Applications only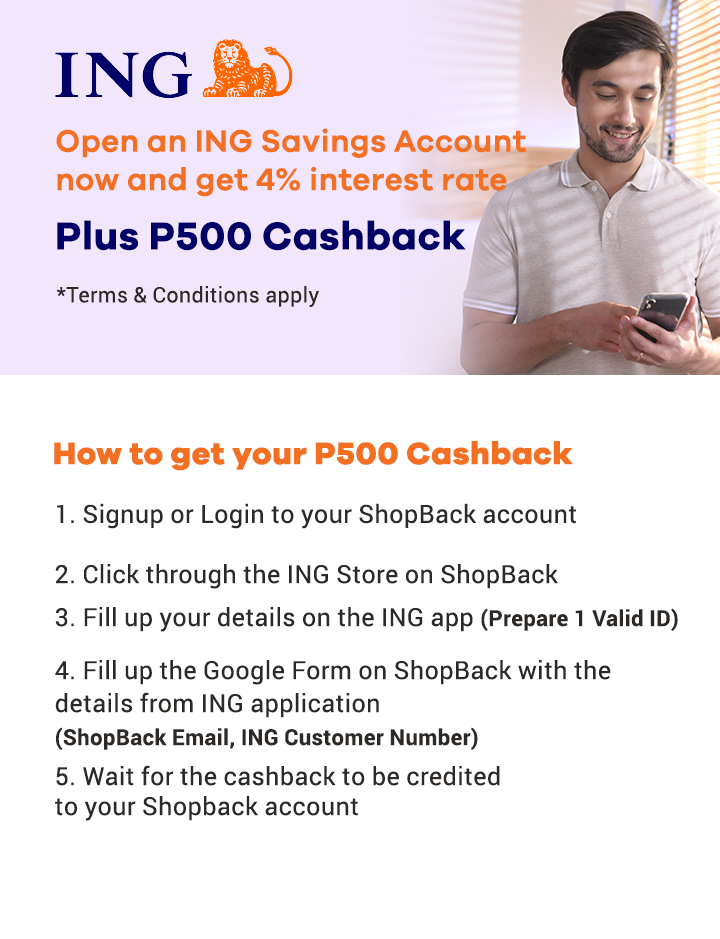 FAQs:
I am a ShopBack user, and I have recently applied for an ING account but not via ShopBack, am I eligible to get P500 Cashback? No, only applications made via ShopBack will be valid for a P1000 Cashback upon ING's approval of the account.
I applied for an ING account via ShopBack, but I forgot to fill out the form, will I still get P500 Cashback? Unfortunately no. This is because we will not be able to find out what the ING account number of the ShopBack user is if you do not fill up the form.
How long will the P500 Cashback take to be credited to my account? You will see your Cashback on your ShopBack account after 90 days after ING approval.
When can I withdraw the P500 Cashback? Once ING confirms your account is valid, it will take up to 90 days to confirm your Cashback. Meaning after 75 days you are evaluated as a legitimate account holder.
Terms & Conditions
Offer: This is a promo offering of ShopBack. From 2 - 8 Jun 2020, 6 - 11 Jul 2020, & 14 - 18 Jul 2020, the first 5,000 Shopback users are entitled to a PhP1000 cashback, while on other days within 10 Apr 2020 - 30 Aug 2020, they are entitled to Php500 on their ShopBack account if they open an ING Savings Account during the promo period.
Cashback Notes/Mechanics
Cashback is valid only for ShopBack users without an existing ING savings account.
Cashback is valid only for Shopback users who have successfully registered an ING Savings Account with a valid ING Customer number and completed submission on ShopBack Google Form.
ShopBack user will receive PhP1,000 within 90 days from the opening of the ING Savings Account.
Only one ING Savings Account can be registered for every Shopback user. If you register more than one ING Savings Account to your ShopBack account, your eligibility for this promo will automatically be forfeited.
For account opening issues with ING, you may contact askus@asia.ing.com. For ShopBack cashback concerns once you have successfully opened an ING Savings Account, you may contact help@shopback.ph.
To Ensure Cashback Is Tracked:
Install the ING App first before clicking from ShopBack.
After signing up on ING App, return to ShopBack and fill out your ShopBack email and ING Customer Number on the ShopBack Google Form.
Submit ING Customer number through the Google Form within 4 days of click
Click through ShopBack again if there's any errors.
Cashback will initially track at PHP 0 and update upon validation.
By voluntarily disclosing your ING Customer Number to ShopBack, you consent to the processing by ShopBack of your personal data and hold ING free and harmless from and against any liability whatsoever arising from any losses, costs, damages, costs or claims that may arise in connection with the processing of your personal data or this promo offering.
Cashback Not Qualified:
ING Account that have not completed account opening via mobile app (i.e. without a valid ING Customer Number).
Non-submission of the Google Form in ShopBack.
Unsuccessful/Unapproved ING account activation.
Before filling out this form, please ensure you have the following:
Created your account on ING via ShopBack.
You already have access to your ING account to check your customer number.
If you have not created an ING Account yet, please follow the steps below:
Download the ING App on the App Store or Google Play.
Open your ShopBack app, login.
Search for ING.
Click 'Continue to App'.
Follow account creation instructions on ING.