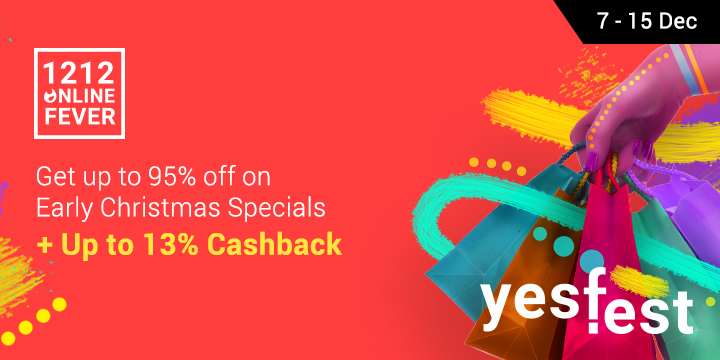 New ShopBackers Christmas Treat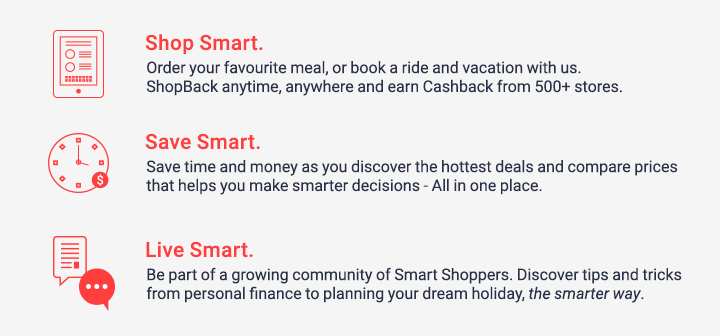 New ShopBacker Christmas Treat terms & conditions:
This campaign is only applicable to New ShopBack customers. New ShopBack customers are those whose accounts are created from today onwards with 0 transactions.
P12 After Cashback Party runs from 8 December, 2017 00:00 to 15 December, 2017 23:59.
All New customers who will avail this promotion as their first ShopBack order will get their products at P12 After Cashback for 1 item only.
Pay the price shown on Lazada first & get initial Cashback of up to 9% (for Lazada) within 48 hours.
Remaining bonus Cashback will be credited into members' accounts by 31 Jan, 2018, and new ShopBack customers will end up availing the product at P12 After Cashback.
Only the exact items above accessed from this ShopBack page will qualify for this promo, while stocks last.
Some items are only valid at special discounted prices from a certain time, indicated at the bottom of each deal.
Prices shown above (the Buy first at prices) accurate as of 8 Dec, 2017 and total Cashback will be given based on the Cashback amounts shown in each item image. Final value of Cashback is calculated based on the listed price on one(1) item only.
Items shown above subject to stock availability on online stores' websites and can be removed or replaced at any time. ShopBack has no control over price changes of items on merchants' websites.
Orders that are 1) not made via ShopBack, or 2) suspected to have fraudulent intent (eg. creating multiple ShopBack accounts), will not qualify for the bonus Cashback.
ShopBack reserves the right to amend / append / withdraw the terms & conditions without prior notice.
Good news, 1212 Sales is finally here!
The 1212 sale is here! Held on 12/12/2018, the last major sale in December before Christmas is here. So if you had been too busy working and had forgotten to get all your obligatory Christmas gifts for your friends, family, or acquaintances, then grasp this last chance well. Mark your calendars, as the 12.12 sale is the best December sale to get the best deals for the Christmas season of giving. Joined with 12/12 deals and promo codes, this is truly the best season for giving!
Be it toys, food, clothes, or electronics, get both your loved ones and yourself a treat and a present.
Online shopping for the busy with December promotions
Remove the queues from your shopping equation and shop online. Not only do you get great December promos without fighting with others in the store, but you can get your products delivered right to your doorstep as well. Therefore, if you are still bogged down by work and unable to make it down to the malls to shop, go ahead and shop online. Not only does it saves time, you also get to use great December deals and coupons with a quick search, and have all your obligatory Christmas shopping down! So go do some online shopping, and use some December codes to get what you need for cheap!
12-12 deals for the fashionistas
Christmas is coming! If you haven't already, go shopping for clothes. Shop for your Christmas party clothes, or try out a new look this year. Whether you are on the search for a grunge look, or a style more fitting for a Korean popstar, feel free to experiment with the different styles, because changing your style has never been cheaper with a 12.12 promo code! So do make use of your December codes while you still can. This way, there is nothing to fret about, but the look of the clothes on you, and which December deal to actually prioritise.
Need help with presents? Google for ideas or just roam the above list
In the season of gifting, finding the right present can be a tough challenge. Google would be the first thought that comes to mind for tips and advice, but with pages after pages of 'best gifts' listings, it almost feel like it's back to square one. Sometimes, the googled suggestions are way out of your budget, even if it did fit your loved one's criterias. Don't fret. Simply take inspiration from the Google searches and roam our above list for something similar at a more affordable range. In fact, you might even find the exact same item, but with a price-cut! Alternatively, bookmark us for the best deals abound, and perhaps you might find something you'd like.
Adventures with 12/12 deals
You've done your waiting, all twelve months of it, for the perfect adventure and what better time than now to use a December promo and book a vacation to the destination of your dreams? That's right, make full use of the Dec sale to book your holiday while it still lasts. Grab a couple of your friends, share some Dec codes, and travel together with your friends. It's a great way to facilitate bonding between friends and celebrate the strength of your friendship by travelling together. So use the December discounts to get a trip for cheap, and then you can sate your wanderlust with friends, on the day of 1212 itself!
December offers for electronic goods
If any electronic product has had the honour of catching your eye, don't let them slip away from you. Quote a December coupon and they might be able to go home with you for cheap. So yes, get a new HD TV with the latest gaming console you've always wanted, or get a portable handheld to complement that existing gaming console you already have. Or perhaps you want to get a tablet to pamper one of your loved ones? Go ahead, because on 12.12, there will be electrifying sales. So make use of the December promotion to actually get some 1212 coupon codes and electronics for cheaper rates!
Get cashback on top of the 12/12 sale when shopping with ShopBack Philippines
More good news - ShopBack Philippines will give you cashback on top of the different 12.12 discount codes that you may enter. As long as you click through ShopBack Philippines to any of our merchant websites to shop there, then ShopBack Philippines will give you corresponding cashback! So enjoy any December promotion, and when you do, always remember that ShopBack Philippines will have your back, and we will give you all the cashback you have earned with the 12.12 sale. For more of the latest deals, just subscribe to our newsletter. Happy shopping!